Tweet
Follow @ThePageCenter
Amanpour, Chenault and Polansky lead Page Center's sixth annual integrity awards
December 3, 2021 • Jonathan McVerry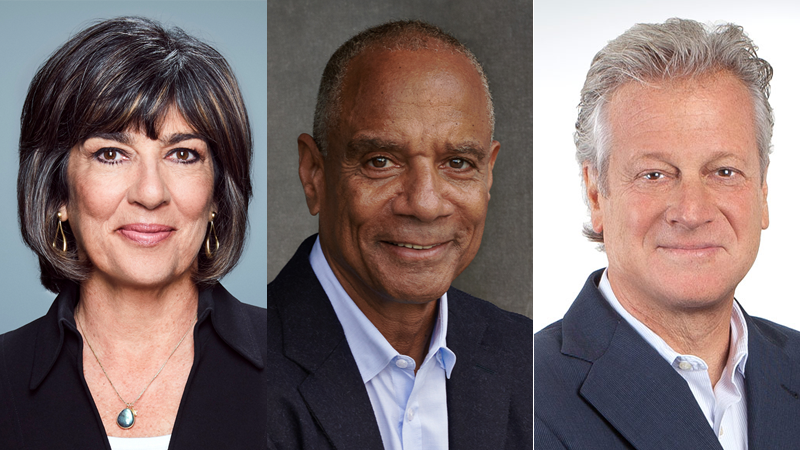 Event and registration page: awards.thepagecenter.org.
The Arthur W. Page Center will honor Christiane Amanpour, chief international anchor at CNN; Ken Chenault, chairman and managing director of the venture capital firm General Catalyst and former chairman and CEO of American Express; and Andy Polansky, chairman and CEO of IPG DXTRA and executive chairman at Weber Shandwick, at its sixth annual awards for integrity. The virtual event will be held at 6 p.m. ET on Feb. 23, 2022. The event is free and open to the public. Register here.
Honorees receive a Larry Foster Award for Integrity in Public Communication, which is given to professionals who have become trusted voices in a number of fields, including business, journalism, public relations and the public sector. Honorees participate in a Q&A session and discuss how integrity played an important role in their success as communicators.
"There is a great urgency to find leaders who set examples for others to follow," said Bill Nielsen, Page Center advisory board chair and former corporate VP of public affairs at Johnson & Johnson. "Each year we build the case that integrity is essential to earning trust and successfully communicating with the public."
Last year's event was the first broadcast online. More than 1,000 viewers watched live as the Page Center honored Anthony Fauci, NIAID director; Judy Woodruff, anchor and managing editor of PBS Newshour; Eugene Robinson, Washington Post columnist; and Bill Heyman, CEO of Heyman Associates.
Hosting the event virtually is an opportunity for the Page Center to share its mission of "enhancing ethics and responsibility in public communication" to a global audience.
"The Page Center Awards have become a forum for teachers, professionals and, most importantly, students to gather and learn from inspiring leaders," Page Center director Denise Bortree said. "The fundamental need for truth and integrity transcends our industry. It's an important message for everyone to hear"
Visit the awards page for more information about past events and honorees.
Meet the 2022 honorees:
Christiane Amanpour
Christiane Amanpour is chief international anchor of CNN's award-winning flagship global affairs program "Amanpour," which also airs on PBS. She is based in the network's London bureau. Amanpour's fearless and uncompromising approach made her popular with audiences, and a force to be reckoned with by global influencers. She has become a trusted voice in journalism and has been recognized for coverage of many historic events over her near 40-year career, including the Gulf War, the trial of Saddam Hussein, genocide in Bosnia and the September 11 terrorist attacks.
Kenneth Chenault
Ken Chenault is the chairman and a managing director of the venture capital firm, General Catalyst. Prior to joining General Catalyst, Chenault was chairman and chief executive officer of American Express, a position he held from 2001 - 2018. Upon Chenault's retirement from American Express, Warren Buffett, the company's largest shareholder stated, "Ken's been the gold standard for corporate leadership and the benchmark that I measure others against." At General Catalyst, Chenault focuses on investing in fast-growing companies that have the potential to become large, fundamental institutions. He also provides invaluable guidance to portfolio companies, particularly to those with an eye towards global markets and responsible innovation, as they scale their teams and products.
Andy Polansky
Andy Polansky is the chairman and chief executive officer of IPG DXTRA, a global collective of marketing services and public relations firms that includes Weber Shandwick, Golin, Rogers & Cowan PMK and FutureBrand. Polansky also is executive chairman of Weber Shandwick, after serving as CEO from 2012 to 2019. Under his leadership, Weber Shandwick was named Agency of the Decade by PRovoke Media and was PR Week's Global Agency of the Year from 2015 to 2018. Polansky has a passion for engaging with students and young professionals as they plan their careers and is a trusted global leader in the public relations industry.
About the Page Center Awards
Located in Penn State's Donald P. Bellisario College of Communications, the Page Center is a research center that advances integrity in all forms of public communication. It was founded by public relations legend Larry Foster, Penn State alumnus and the namesake of the Center's integrity award.
The purpose of the Page Center's honors event is to celebrate icons of ethics, truth and integrity in public communication. The event supports innovative research by Page Center scholars who represent universities all over the world. The Center's research projects aim to build the scholarly and public understanding of ethics in communication. To date, the Center has funded more than 250 scholars and awarded nearly $1 million in research funding.
Areas of focus include corporate social responsibility, digital ethics, sustainability
communication, advocacy, fake news and more. Other Center initiatives focus on educational opportunities like regular speaker series, oral history archiving and online educational modules.
Visit the awards page for registration, event and sponsorship information.