Tweet
Follow @PSUCollegeComm
July 18, 2014
Baseball interns remain busy in variety of roles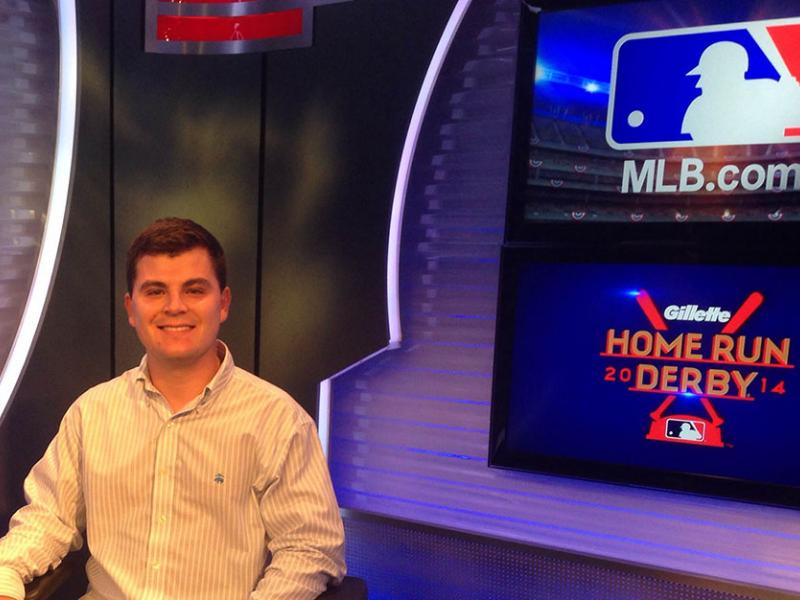 This is the seventh in a series about College of Communications students completing summer internships.
With the All-Star Game over, 15 games jump start the major league baseball schedule Friday, and that means another busy day for five Penn Staters completing internships associated with Major League Baseball.
Mike Esse typically assists in video production and conducts research for MLB.com based in New York City. For the All-Star Game, he worked closely with production on the studio shows for both the Home Run Derby and the game itself, and he has completed a large amount of research for historical baseball pieces.
Throughout the summer he has been working on multimedia production in a variety of ways, broadening his skill set that already includes an ample amount of play-by-play and broadcast experience.
"It's a lot of things I've never done before, and it all has a purpose. So it's interesting to see how it affects the process," Esse said. During the MLB Draft, he played an important role it what viewers saw, controlling which graphics appeared on the screen and when they were shown.
He works 40 hours a week in the MLB.com offices, housed in the Chelsea Market Building in New York City. He has also worked closely in a few different ways with the respected MLB Advanced Media unit, which handled the video stream for all of the FIFA World Cup and consistently crafts productions at the cutting edge of streaming technology.
Esse will work for MLB.com until Aug. 15 and then return to campus for the start of his senior year, serving as one of the general managers for ComRadio while also completing an internship with the College of Communications Office of External Relations and working for both gopsusports.com and ESPN Radio 1450 in State College.
Other Penn Staters with MLB-related internships are: Tyler Feldman at MLB Network; Ross Insana at the National Baseball Hall of Fame and Museum in Cooperstown, New York; Steven Petralla, a reporter covering the Boston Red Sox; and Stephen Pianovich, a reporter covering the Pittsburgh Pirates.
For Insana, the summer internship has helped broaden his skill set as well. "Adding multimedia and production skills makes me more multifaceted," he said. "Everyone who's given me advice has told me to be good at what I do and to embrace different opportunities. That's what I'm doing -- and it's great."
Insana has mostly focused on play-by-play and talk radio opportunities, completing an internship for 93.7 The Fan in Pittsburgh last summer and working for ComRadio while at Penn State. He was also a member of the class that produced "Centre County Report," a weekly TV newscast, and credits Steve Kraycik, director of student television and online operations, with providing valuable classroom experience that prepares students well for the real world. "That class helped make me the person I am and the College of Communications in general just provides so many opportunities to get hands-on experience and grow. I really got involved as a junior, but so many people jump right in as a freshmen. It's a wonderful environment."
A relatively small, three-person staff in his unit at the Hall of Fame has enabled Insana to get even more quality experience this summer. Plus, with the Hall of Fame induction ceremony coming July 27, Insana expects things to get even busier than they've been already.
"We've done 'Pointers with the Pros,' a video series that includes all this year's inductees talking about something they do well. So we have Frank Thomas about hitting for power and hitting to the opposite field and Tom Glavine and Greg Maddux talking about pitch grips," Insana said. "It's really interesting stuff, the start of an ongoing series."
Insana has also been able to help with several 75th anniversary-themed video productions or the Hall of Fame that focus on topics like Phil Niekro's knuckleball and two separate videos featuring Cal Ripken Jr. In addition, Insana, a Pittsburgh-area native, has started work on a 35th anniversary piece about the 1979 Pittsburgh Pirates, which will go on the Hall's YouTube channel in October and include a portion of the induction speech by Pirates Hall of Famer Willie Stargell from 1988.
"It's all part of an all-encompassing video approach to what the Hall of Fame is doing," Insana said. "They're integrating more video into what they do, becoming more than just the bronze plaques of the Hall of Famers, and it's exciting to be part of that, as things like the shoes Albert Pujols wore for his 500th home run become so much more through an integrated presentation."

For the second year in a row, Petralla and Pianovich are completing internships as associate reporters through the highly competitive internship program coordinated by Major League Baseball.
Petralla is covering the Boston Red Sox and Pianovich the Pittsburgh Pirates. They completed similar internships last summer, and since the inception of the MLB program in 2008 Penn State has had 24 students selected for the program -- the most of any school in the nation. Schools trailing Penn State in the top five are: Florida (14 interns), Illinois (12), Arizona State (10) and Michigan State and Kanas with nine each.
Petralla and Pianovich work during team homestands, producing stories about the games and breaking news every day. Because they completed the internships last year, they bring a higher level of comfort and more confidence to their positions this summer.

"It's nice. They threw me right in covering the Braves in my first series," Petralla said. "The job's the same. It was just a matter of learning a different ballpark and different people. Plus, the media coverage in Boston is very different than in Pittsburgh. There's more attention and competition."
Still, the MLB reporters have slightly different deadlines and duties that mean they're not directly competing with local reporters. Both Petralla and Pianovich believe they have grown greatly from the start of last summer.
"When you're working every day in that professional environment, you get better," Petralla said. "You're writing so much, you're reading your stuff, and you're trying different things to improve. If you were only writing a couple of stories a week, it might be hard to see your improvement, but we do so much that you can see your copy get better."
Petralla said the consistency and repetition of the internship has helped him improve at writing accurately and quickly.
He gets back to work Friday when the Texas Rangers visit the Red Sox.
Pianovich returns to work with a Pirates series against the Colorado Rockies. Having covered the Philadelphia Phillies through the MLB program last season, Pianovich also appreciates the process in general.
"Knowing the day-to-day operation helps," Pianovich said. "You know there will be a pre-game notebooks story. Plus, baseball has a longer season, with more games than other sports, so you can focus on bigger issues. At the same time, maybe the biggest thing for the day will be a hot streak, a hit or a milestone. There's always something."
In addition, the daily changes of the game and a different team mean the assignment provides regular challenges.
"It's a new clubhouse and I'm a new face. To be really good at this you have to develop sources and a comfort level with the players, and that takes time," Pianovich said. "This year, with the internship coming in my summer after graduation, I'll be able to be here a little longer and benefit from that familiarity. Also, I know some other Penn Staters were hired by MLB after they completed the internships. Whether that happens or not, all that's happened through this has set me up for success."
Feldman, the youngest member of the quintet -- he'll be junior when the fall semester begins -- said the internship he started June 9 has been a vital step on his career path.
As a high school senior at Upper St. Clair High School in Pittsburgh, he was sure about Penn State but little else. He applied to four different colleges at the University, and he's presently working toward double majors in finance and journalism. "I had decided on a business degree and a friend at Penn State told me about Mike Esse," Feldman said. "I got introduced to him, got a chance to work at ComRadio and PSN-TV, and got involved in the College of Communications. And I loved it!"
Feldman harbors on-air aspirations, but he's learned about many other things as a research and production intern for MLB Network. He has a front row seat as the Emmy Award-winning "MLB Tonight" gets produced, and Feldman has been savvy enough to make the most of that access. He does his job, helping produce the daily research packet and any other assignment that comes his way, and he listens. A lot.
"The best thing has been sitting in production meetings before each show, just hearing how the analysts and on-air talent get ready. They have great stories, but you also gain an appreciation for how much work goes into every show," Feldman said. "A lot gets ad-libbed during shows, but they're prepared."
Feldman's internship continues until Aug. 1. After that, he'll prepare to return to campus and what he hopes is a full slate of classes and hands-on opportunities. He said the internship has helped drive home the importance of good writing, something his faculty members in the College of Communications previously stressed. In addition, he said the internship has ignited his passion for sports broadcasting and sports journalism.
That's why he has not always just listened while at work. "You're right there with all those talented people -- analysts, directors, on-air talent, producers -- it only makes sense to ask questions," Feldman said. "It's just like what we have at Penn State and the John Curley Center for Sports Journalism. We have so many options students at other schools do not. You can get involved right away as a freshman. It's all there, and you just have to make the most of it. That's what I want to do."
Intern Series: Previous Stories