Tweet
Follow @ThePageCenter
2020 scholar grants to identify effective, ethical ways to listen to stakeholders
August 19, 2019 • Jonathan McVerry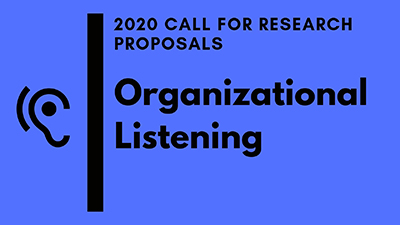 The Page Center has announced its annual competition for the study of integrity in public communication. This year, the Center is issuing a call for research proposals that will examine organizational listening.
While focus areas differ from year to year, the Center aims to support research that fosters an understanding of principles practiced in communications, like the Page Principles, and value statements, like the Johnson & Johnson Credo—two philosophies that promote ethical decision-making in public relations.
Visit the 2020 Call for Proposals page for more information on guidelines, terms and eligibility.
Call for grant proposals: Organizational Listening
Senior research fellow and associate professor at Quinnipiac University Katie Place is leading the call. If you have questions, please contact Place at katie.place@quinnipiac.edu.
The Page Principle "Listen to Stakeholders" calls for public communicators to listen effectively and engage a diverse range of stakeholders through inclusive dialogue. Despite its status as a Page Principle, listening has received little explicit attention in public relations or public communications research. Moreover, according to Brunner's 2008 study, listening is perceived as essential to effective business and communication practice. However, it has traditionally been theorized as a function of interpersonal communication, human resources, education or counseling, according to Macnamara (2018).
Previous theoretical research by Botan (1997, 2018), Botan and Taylor (2004) and Kent and Taylor (1998, 2002) has explored concepts complementary to the process of organizational listening. Concepts include dialogue, relationship building, mutual understanding. Most recently, research has focused on considering publics as equals in the communication process and the fostering of a culture of, what Macnamara (2018) has coined, an architecture of listening. Organizational listening can be characterized as two-way communications to build relationships and position organizations to meet the needs of stakeholders.
In the spirit of an organization's moral responsibility to listen to stakeholders, this call for proposals seeks original research that will further develop our understanding of organizational listening. Application materials are due on Jan. 15, 2020. Visit the proposals page for more information, important dates and a list of example topics.