Tweet
Follow @ThePageCenter
An evening honoring integrity: The 2017 Arthur W. Page Center Awards
February 27, 2017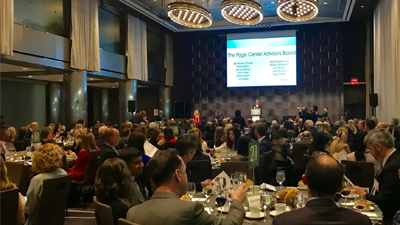 By Kasey Hughes, Page Center intern
In challenging times, communicators must remain vigilant in pursuit of the truth. This was a common theme throughout the Arthur W. Page Center Awards for Integrity in Public Communication as members of its inaugural class were recognized for their pursuits of the truth during their decades in the industry.
Honorees Ann Barkelew, founding general manager and senior partner of FleishmanHillard; Dick Martin, author and former executive vice president of public relations of AT&T; and Alan Murray, chief content officer of Time Inc. and editor-in-chief of Fortune magazine shared thoughts and stories with nearly 230 professionals on Feb. 22 at the Grand Hyatt in New York City.
Hosts Bill Nielsen, Center advisory board chair, and Marie Hardin, dean of Penn State's College of Communications, guided the evening through speeches and videos that exemplified the need for truth and integrity in today's culture.
"Journalists and public relations professionals share a duty to truthfully and fully inform the public," Nielsen said. "We believe the truth and fact-based reporting should be the irrefutable standard for all who take on the responsibility of communicating with the public."
"Truth and integrity are what the Arthur W. Page Center works for in its many areas and initiatives," Center director Denise Bortree said. "It's reassuring to have so many guests from important organizations supporting the cause—not to mention our honorees who have had long, prestigious careers carrying the torch that Larry Foster held for so many years."
Foster is considered one of the most influential figures in communications in the 20th century, Nielsen said. "He was very well known for being a man of integrity."
During his 33-year tenure at Johnson & Johnson, Foster guided the critically acclaimed response to the company's Tylenol crisis as the corporate vice president of public relations. In 2004, Foster established the Page Center to advance the values of integrity through the Page Principles.
Murray was the evening's first honoree. In his acceptance speech, he discussed recent changes in the media and the common standards of journalism. In the end, he said, "we are trading in the same currency: the facts. The facts are the facts."
Barkelew shared the wisdom gained throughout her career reminding the audience that "communication is a privilege." She advised, "Don't look around, away or beyond the facts, but recognize the facts, nothing more or nothing less."
In Martin's speech, he spoke on the importance of educating others through ethical fact checking. "Media literacy may be the social issue of our time; addressing it is in our society's own interest."
The communications industry must "be held accountable for the principles and the ethical standards that underlie what we do, and the manner in which we practice," Nielsen said. "This is the promise of integrity in public communications, and it is too big to fail."