Tweet
Follow @ThePageCenter
Exploring the role of technology among refugees
January 13, 2016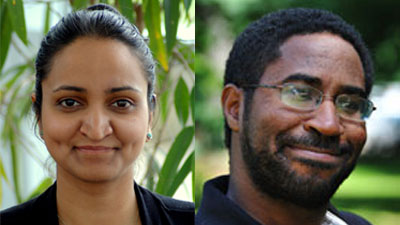 This blog post is the second in a series highlighting research from the Page Center's Refugee Communication Project and call for research on the refugee crisis occurring across the globe. We will feature projects from this call in the blog throughout the month of January.
By Akshaya Sreenivasan and Steve Bien-Aime, the Pennsylvania State University
Nested in the foothills of the mighty Etna in a quaint Sicilian village is Mineo. Also known as the "city of oranges," Mineo is popular for its Greek-Baroque architecture and wild olives. But the beauty of this rustic city comes to an end at the Center for Asylum Seekers and Refugees (CARA), home to more than 4,000 refugees.
The camp at Mineo is the largest refugee reception center in Europe and houses refugees from more than 35 nations. The ongoing civil crisis in Africa—including Libya, Tunisia, Somalia and Northern Nigeria, as well as the conflict in Syria—forced people to flee to foreign nations. In 2015 alone, close to 300,000 refugees crossed the Mediterranean Sea into Greece and Italy.
A refugee spends anywhere between six months to several years in a camp before the commission for refugee welfare in the host nation decides on their legal status. If a refugee is denied a work permit and residency, the asylum seeker has to once again file for legal documentation. During this period, refugees explore social connections and information through information and communication technology (ICTs), like mobile phones and computers.
Thanks to the Arthur W. Page Center, our research explored the relationship between communication technology and the refugees. Our project focused on refugees rescued at sea. Using semi-structured interviews and participant observation, we focused on the refugee's use of technology in the camp, as well as in their home country. Our preliminary results indicate that mobile phones are 100 percent diffused in the camps. Unlike other refugee camps in the world, Mineo receives monthly donations from the ministry of interior (Italy), the United Nations High Commissioner for Refugees (UNHCR), as well as private non-governmental organizations. The camp residents in turn receive a daily stipend of 2.5 Euros, apart from food, clothing and shelter. The residents save their stipend money to purchase smart phones.
"I saw people using phones. I asked my roommate how to get a phone. He told the logistics to get a phone, then we buy the phone. Each day they give us money and then we buy the phone. They give 2.50 euros, take the cigarette money and then get a phone of your choice. Else you can ask them to block your account. Then they tell us, this this phone is so much amount… say 99 euros and then you save that monies and get the phone. Sometimes you collect the money and buy from elsewhere."
Even during crisis, the mobile phones come in handy. All of our participants were subject to trauma and violence in Libya, before they escaped to Italy. Here, they used phone cards and borrowed mobile phones to stay in touch with others.
"There was just one dinar left on the phone, when I got it. So I called home once and said "Salam wale gum." I called my uncle, because that was the only number I remembered. After that, neither did I get a card, nor I got a chance."
Our preliminary results indicate that there is a general awareness of technology use and adoption in the camp. Smart phones and mobile-based applications help the refugees stay in touch with family and friends. We are currently exploring other uses of the technology, and newer ways of communicating during crisis.