Tweet
Follow @ThePageCenter
Fauci, Woodruff, Robinson and Heyman headline 2021 Page Center Awards
December 3, 2020 • Jonathan McVerry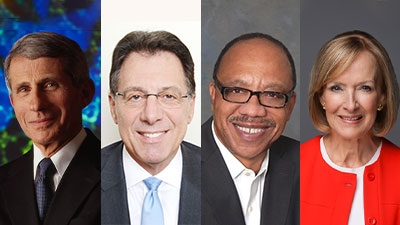 The fifth annual Arthur W. Page Center Awards will honor Dr. Anthony Fauci, NIAID director; Judy Woodruff, anchor and managing editor of PBS Newshour; Eugene Robinson, Washington Post columnist and editor; and Bill Heyman, CEO of Heyman Associates.
The four honorees will participate in a virtual event at 7 p.m. on Feb. 24, 2021 where they will be recognized for long careers ethically and responsibly communicating with the public. Each honoree will take part in a live Q&A session to discuss the important role of truth-telling and integrity in their work.
"The breadth and authority of this year's class of Larry Foster Award honorees is as inspirational as it is impressive," said Bill Nielsen, Center advisory board chair and former corporate VP of public affairs at Johnson & Johnson. "The best way to promote truth and integrity is to hear from those who showcase those values in everything they do."
Honorees receive the Larry Foster Award for Integrity in Public Communication, which highlights professionals who exemplify the importance of truthful communication with the public. These icons of integrity represent a number of fields, including journalism, public relations, business and the public sector.
"Communicating the truth crosses all industries and involves every discipline," Page Center director Denise Bortree said. "Identifying those who insist on transparent, honest communication—even during these truth-challenged times—is what the Page Center Awards are all about."
Recently named one of the "most influential people of 2020" by Time Magazine, Dr. Fauci has been a trusted voice among a cacophony of voices emerging from the United States' response to the COVID-19 pandemic. Over his career, he has countered national and global health emergencies through open and truthful communication while serving as an advisor for every U.S. president since Ronald Regan. Dr. Fauci's role as a trusted voice exhibits the importance of responsible communication—especially when dealing with public health.
Heyman has served as CEO of Heyman Associates since 1989. Over that time, he has built one of the premier executive search firms in the country. Heyman has been credited with setting an industry standard that values integrity, diversity and trust in the field of recruiting communications and marketing leaders. The company prides itself on relationship-building with companies and candidates. Heyman was inducted into the PR Week Hall of Fame in 2017.
A 2009 Pulitzer Prize winner, Robinson has been a journalistic force since starting his career at the San Francisco Chronicle 40 years ago. He worked his way up the ranks at the Washington Post to his current position as associate editor and columnist. His columns are syndicated to more than 260 newspapers. He also contributes to NBC News and many MSNBC programs as a chief political analyst. In 2011, Robinson was elected to the Pulitzer Prize board and served as its chair from 2017 to 2018.
Woodruff has been a steady and trusted voice among a chaotic media landscape for decades. When her career began, she was a woman in an industry of men. Over that time, she and other notable women journalists, blazed a trail by committing to strong journalism that built trust among colleagues, but more importantly viewers. A sign of trust across party lines, Woodruff has moderated several debates for both the Democratic and Republican parties. She has been a PBS Newshour anchor since 2010 and its managing editor since 2013.
Woodruff co-anchored PBS Newshour with Gwen Ifill, who posthumously received a Larry Foster Award in 2018. Woodruff shared remarks about her colleague and friend in a video at that year's event.
Visit the awards page for more information about past events and honorees. Register for the free online event here.
Located in Penn State's Donald P. Bellisario College of Communications, the Page Center is a research center that advances integrity in corporate and public communications. It was founded by public relations legend Larry Foster, Penn State alumnus and the namesake of the Center's integrity award.
Past honorees are Dean Baquet, executive editor of The New York Times; Gwen Ifill, former anchor of PBS Newshour (posthumous); Thomas Kean Sr., former New Jersey governor; Alan Murray, president and CEO of Fortune; Ginger Hardage, former senior VP of culture and communications at Southwest Airlines; Marilyn Laurie, former executive VP of public relations at AT&T (posthumous); Bill George, former CEO of Medtronic; Jack Rowe, former CEO of Aetna; Ann Barkelew, former general manager of FleishmanHillard; Dick Martin, former executive VP of public relations at AT&T; Gene Foreman, former managing editor of the Philadelphia Inquirer; and John Onoda, independent consultant and former CCO of Charles Schwab & Co.
The primary purpose of the Page Center's honors event is to celebrate icons of ethics, truth and integrity in public communication. The event also supports innovative research by Page Center scholars who represent universities all over the world. The Center's research projects aim to build the scholarly and public understanding of ethics in communication. To date, the Center has funded more than 250 scholars and awarded more than $900,000 in research funding. Areas of focus include corporate social responsibility, digital ethics, sustainability communication, advocacy, fake news and more. Other Center initiatives focus on educational opportunities like regular speaker series, oral history archiving and online educational modules.
Visit the awards page for registration and other information about the free virtual event. There will be no charge for individual viewers. The event is underwritten by a number of sponsors and supporters.