Tweet
Follow @ThePageCenter
Foreman, Hardage, Kean named 2020 Page Center Award honorees
January 16, 2020 • Jonathan McVerry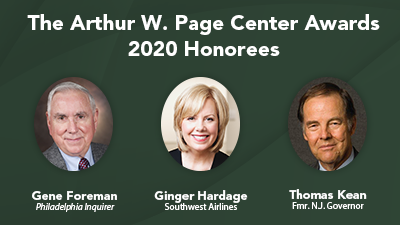 Event and registration page: awards.thepagecenter.org
The fourth annual Arthur W. Page Center Awards will honor Gene Foreman, former managing editor of the Philadelphia Inquirer; Ginger Hardage, former senior VP of culture and communications at Southwest Airlines; and Thomas Kean Sr., former New Jersey governor and chairman of the 9/11 Commission.
The renowned communicators will receive a Larry Foster Award for Integrity in Public Communication at a special awards dinner, which will be at 6 p.m. on Feb. 19, 2020 at the Intercontinental Barclay Hotel in New York City.
The Larry Foster Award recognizes work by professionals in the journalism, public relations, business and public service sectors. The dinner showcases the importance of integrity in these fields and has become a marquee night that honors communicators who have committed long careers to the concept of "truth well told."
Foreman, a seasoned journalist who managed the Inquirer's newsroom for 25 years, literally wrote the book on journalism ethics. The Inquirer earned 18 Pulitzer Prizes during Foreman's tenure with the newspaper, and he spent much of his retirement teaching newswriting, editing and ethics. In 2009, he wrote "The Ethical Journalist," which provides aspiring reporters the tools they need to apply ethics to their work.
Hardage's career has become synonymous with integrity and corporate culture change. For 25 years, she served as a member of Southwest's leadership team. She not only built a positive organizational structure internally, Hardage also helped create a reputation for Southwest that inspired all of the company's stakeholders. Thanks to her forward-thinking dedication and integrity, Southwest has become one of the most admired companies in the world.
Kean served as New Jersey's 48th governor from 1982 to 1990. While in office, he became one of the most popular governors in the state's history by focusing on inclusion. He helped shine a light on race relations, education, health and the environment. In 2002, Kean was selected to lead the 9/11 Commission, which was responsible for a detailed overview of how the United States prepared and responded to the terrorist attacks on Sept. 11, 2001.
"The Page Center Awards integrate all areas of public communication by emphasizing the single most important component of our industry—integrity," said Page Center director Denise Bortree. "Every day we see the impact misinformation can have on society, so honoring these committed men and women is a way to shine a light on ethical, truthful communication."
Located in Penn State's Donald P. Bellisario College of Communications, the Page Center is a research center that advances integrity in corporate and public communications. It was founded by public relations legend Larry Foster, Penn State alumnus and the namesake of the Center's integrity award. With the support from the more than 20 companies in attendance, the dinner raises funds for the innovative communications research conducted by Page Center scholars.
Over the awards' four-year history, honorees have represented a range of areas from global corporations to public television. During the event, they share their stories and advice with guests. In addition to the honorees' remarks, communications researchers and practitioners have a chance to network, and Center representatives share current and upcoming research initiatives.
"Each honoree inspires us in a different way, and I think it's important for young communicators as well as seasoned CCOs to see how far-reaching and influential ethical decision-making can be," said Bill Nielsen, Center advisory board chair and former corporate VP of public affairs at Johnson & Johnson. "It's important to keep moving forward and showcasing how integrity benefits everyone."
Visit the awards page for more information about past events and honorees.
Past honorees are Bill George, former CEO of Medtronic; Jack Rowe, former CEO of Aetna; Dean Baquet, executive editor of The New York Times; Alan Murray, president and CEO of Fortune; Gwen Ifill, former anchor of PBS Newshour (posthumous); Ann Barkelew, former general manager of FleishmanHillard; Marilyn Laurie; former executive vice president of public relations at AT&T (posthumous); John Onoda, consultant at Gagen MacDonald; and Dick Martin, former executive vice president of public relations at AT&T.
The award's namesake, Larry Foster, was a renowned communicator during his time as both a journalist and public relations practitioner. He founded the Page Center in 2004 with fellow public relations legends Jack Koten and Ed Block.
The awards dinner is a fundraiser that supports innovative research by Page Center scholars. Scholars represent universities all over the world. The Center's research projects aim to build the scholarly and public understanding of ethics in communications. To date, the Center has funded more than 250 scholars and awarded more than $870,000 in research funding. Areas of focus include corporate social responsibility, digital ethics, sustainability communication, advocacy, fake news and more. Other Center initiatives focus on educational opportunities like an annual speaker series, oral history archiving and online educational modules.