Tweet
Follow @ThePageCenter
Free Page Center ethics modules are tailormade for courses going virtual
June 30, 2020 • Jonathan McVerry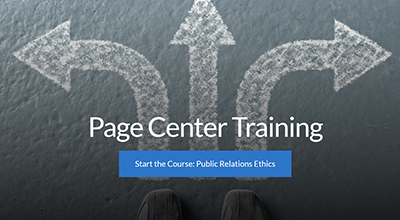 As many communications courses transition to online or partial online instruction this fall, the Arthur W. Page Center offers free educational modules that make it easy for teachers to incorporate ethics into their classwork.
Students can access one or all of the 10 modules, which cover a variety of important topics in communications ethics. Scholars from around the world were recruited to create the modules and pack them with timely and relevant lessons. With real-world case studies and online assessments, these interactive modules provide a detailed look into topics for classroom discussion and learning.
"It's a stressful time for everyone, especially instructors who are adapting their coursework for virtual classes," said Page Center director Denise Bortree. "Our modules are flexible and easy to use. You can choose an ethics topic, add the module to your syllabus and our modules take it from there."
Instructors can get their students registered and learning about communications ethics in three easy steps:
Choose the module or modules you want to include in your course.
Share the link with your class.
Ask students to register.
Once registered, students will have access to all of the Page Center Training Modules. Their progress will be tracked, and they will receive a digital certificate for every module they successfully complete. Professors can choose to receive a notification when students finish a module.
Each module is split into two lessons that culminate with quizzes. Lessons are interactive and feature videos, informational graphics and detailed case studies.
Jo Langston, associate professor at Texas Tech University, used the Page Center Training Modules in her PR Professionalism and Practice class, a core course for her communications students.
"I am so very pleased with the depth of information presented to my students in these modules," Langston said. "(Students) completed the beginning four modules, turned in certificates and added to their portfolios, resumes and LinkedIn profiles. And, we had great in-class discussions.
"As we move to the fall, I will continue to utilize this great teaching tool," Langston added.
The Page Center will launch a module on diversity in public relations this summer.
Visit pagecentertraining.psu.edu to get started.