Tweet
Follow @ThePageCenter
Gene Foreman: An ethical journalist from day one
April 28, 2020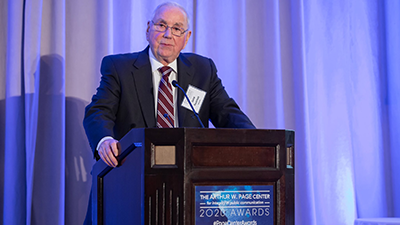 Editor's Note: Gene Foreman has been an ethical force in journalism for about half a century. He was honored with a Larry Foster Award at the Page Center Awards in February. In this article, he shares his journey to becoming a beacon of integrity, how it all began and why teaching was a natural fit after he left the newsroom.
By Alyssa DeLuca, Page Center intern
At the age of nine, Gene Foreman knew he was destined to be a journalist. In the 4th grade, Foreman created homemade newspapers for his family to read, and in the 5th grade he produced daily one-page newspapers that sold in his little Arkansas farming community for a penny apiece.
But where did it all begin? Foreman is not sure what convinced him of a newspaper career, but it may have been comic books! Superman, specifically. His curiosity was piqued by the way Clark Kent and Lois Lane went about their jobs as reporters, and that curiosity led to a successful and fulfilling career.
Foreman got a chance to practice professional journalism when he was 13. When he won the Phillips County spelling bee, the editor of the Phillips County Herald interviewed him and found out about his career interest. On the spot, the editor offered him a nonpaying job writing his community's social notes for the Herald. A year later, Foreman started working at the Helena World during summers and on Saturdays in school terms, earning three dollars a day. Foreman found himself lucky to be coached by professionals in an environment that allowed him to discover himself as a journalist. The paper assigned him a topic deemed "safe" for a teenager to cover—sports. He has always been a passionate sports fan, mainly of football, basketball and baseball.
Even though Foreman had eight summer jobs in high school and college, he measures his "grownup" newspaper career from 1957. That was the year, after college graduation and Army service, that he rejoined the Arkansas Gazette in Little Rock as a reporter. Later he moved to assistant city editor and then state editor. In 1962 he went to The New York Times as a copy editor, but the paper soon was shut down by a printers' strike that lasted 114 days. During the strike he decided to refocus his career on newsroom management. That took him back to Arkansas as managing editor of the Pine Bluff Commercial for five years, followed by managing the newsroom of the Arkansas Democrat in Little Rock for three years. He went back to New York in 1971 as executive news editor of Newsday, responsible for overseeing the production of the daily editions.
In early 1973 Foreman was recruited to The Philadelphia Inquirer by Gene Roberts, the executive editor whose vision was to transform a failing newspaper into one of the top ten dailies in the nation. Foreman's assignment as managing editor was to direct day-to-day operations of the newsroom. By the time Foreman retired in 1998 after 25 years in the job, The Inquirer's staff had won 18 Pulitzer Prizes. And The Inquirer was on everybody's list of top dailies.
Foreman wanted to reserve some time at the end of his career to help prepare a new generation of journalists. He wanted to help students learn the same way he was guided by professionals when he was in high school in Arkansas. He also was intrigued by an observation of the French essayist Joseph Joubert, that "to teach is to learn twice."
Foreman spent almost nine years as a professor at Penn State, and he left his mark on the university. Foreman's professorship was endowed by two Penn State alums, Larry and Ellen Foster. The Fosters became good friends of Foreman's, and so did the College's dean, Douglas Anderson.
With the Fosters' endowment, Foreman and Anderson created the Foster Conference of Distinguished Writers, which brought dozens of the nation's best journalists to campus to share their experiences with Penn State students. Later, at Larry Foster's request, the event was renamed the Foster-Foreman Conference of Distinguished Writers.
In teaching Penn State's required ethics course, Foreman initially used the textbook "Doing Ethics in Journalism: A Handbook With Case Studies," which was based on the Society of Professional Journalists' Code of Ethics. Bob Steele, one of the authors of the textbook, had devised the building blocks of the SPJ Code. When the textbook was abruptly withdrawn from the market in fall 1999, Foreman saw no suitable book available, and he decided to piece together a packet of readings and case studies. Each semester, he embellished the course packet.
When Foreman retired from full-time teaching at the end of 2006, he decided to research and write a textbook on journalism ethics. He spent roughly 40 hours a week on the project and, when he began writing the manuscript, turned out a chapter of 8,000 words or so every week and a half. His book, "The Ethical Journalist: Making Responsible Decisions in the Pursuit of News," was published in 2009. A second edition came out in 2015, with the subtitle changed to "Making Responsible Decisions in the Digital Age." A third edition now is being planned.
As managing editor of The Inquirer, Foreman chaired a staff committee that created a comprehensive conflict-of-interest code in 1978. As a committee chair of the Associated Press Managing Editors, an organization he later served as president, he helped modernize ethics standards for journalists today. He became one of journalism's leaders in dealing with integrity issues.
What Foreman loves most about Penn State students is the passion they feel for their alma mater. Four of his grandchildren graduated from Penn State, and one grandchild currently attends the university.
On Feb. 19, 2020, Foreman received the Larry Foster Award for Integrity in Public Communication. Receiving the Larry Foster Award means a lot to him on several levels: he deeply values the confidence shown by the Page Center committee in selecting him, and he prizes the name that is on the award. Foreman considers it a privilege to have taught in the names of Larry and Ellen Foster, and he regards the Page Center award—with Larry's name on it—as a career-culminating honor.