Tweet
Follow @ThePageCenter
How the global pandemic is impacting U.S. organizations' ability to listen to employees
April 6, 2021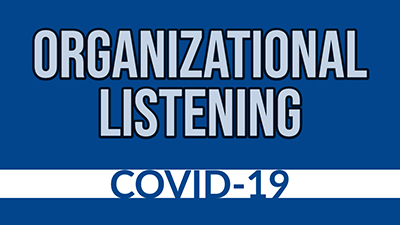 By Marlene S. Neill, Baylor University & Shannon A. Bowen, University of South Carolina
In February of 2020, we started conducting personal interviews for a new study focused on organizational listening in response to a special call by the Page Center. However, that effort was halted as everyone's personal and professional lives were disrupted in the midst of a global pandemic. We were able to resume interviews at the end of April, but by then everyone's lives had been transformed in radical ways as much of the workforce had transitioned to remote work and that issue was now top of mind.
In response, we added additional interview questions focused on how the pandemic had impacted internal communication and their listening efforts. That resulted in a study that was just published by the Journal of Communication Management titled "Ethical listening to employees during a pandemic: New approaches, barriers and lessons."
This phase of our study involved interviews with 30 U.S. communication management professionals. The sample included 22 women and 8 men with an average of 22 years of experience in public relations and communication.
We began the interviews by asking the communication professionals about their interpretations of strategic and ethical listening. This quote from a communication manager for a transportation company sums it up well:
"Ethical listening is listening with an open ear, being able to hear the good, the bad and the ugly. Strategic listening is then taking the good and the bad and the ugly and knowing how to use the information."
We then asked the communication executives about barriers that make it difficult to listen to employees in their organizations and how the pandemic has added to those challenges. The top barriers they identified included lack of desire of senior management to sincerely listen, time, and trust of employees.
Other challenges included the volume of information and limited staffing to analyze feedback from employees. Some of the challenges the communication professionals identified that are associated with listening to employees during the pandemic are the difficulty in observing nonverbal behaviors when using video conference services, the inability to host in-person focus groups, and the need to schedule virtual meetings to collaborate with their colleagues rather than just having them nearby in the office.
In response, communication professionals began to rely on more frequent pulse surveys to gauge changing needs and concerns of employees during the pandemic. Although there are still challenges of remote work, including alienation and lack of coordination among teams, most adapted to the new environment well using technology. For virtual meetings, they are relying on mobile applications ("apps") that allow employees to anonymously submit questions and vote on them to indicate importance.
At the same time, we noticed enhanced moral sensitivity and empathy among the communicators and their organizations when it comes to listening to employees and their concerns. This account from an internal communication professional regarding the focus of their pulse surveys is evidence of that focus:
So, focusing on their sentiment, how are employees feeling right now, and getting kind of just even adjectives to describe their feelings and their sentiment about the current environment, information on how they feel that they're being communicated from leadership, health and safety, remote work. Productivity for the folks, especially the folks who are experiencing remote for work for the first time, how do we tell that story? What employee support and resources do they need?
Overall, we found that communication professionals and senior leaders need to make a more concerted effort to listen to employees, while being sincere and open to their feedback. Communication professionals need to listen with openness and empathy, seeking to remain sensitive to the challenges faced in the pandemic work environment. Additionally, they need to continue to look for effective means to listen to employees when presented with new technological tools, and the need to identify more efficient ways to process that feedback.
We also found a credibility gap existed when organizations listened to employees through surveys and other means but made no real changes or efforts to respond to the data gleaned. Employees expressed the desire to know that their efforts at providing feedback were heard, made a difference in some way, or were acted upon with authenticity by management.
Thus, as an important take away from our research, managers need to communicate to employees regarding how organizations are implementing feedback, so that employees perceive that their input is making a difference and matters.
And while it is encouraging that the pandemic has heightened moral sensitivity and empathy when it comes to listening to employees, we hope that will continue once the pandemic has ended, because those concepts can lead to more well-considered and responsive ethical decision making.
Dr. Neill has been a research fellow with the Page Center since 2018 and a Center scholar since 2015. She is an associate professor in the Journalism, Public Relations and New Media Department at Baylor University.
Dr. Bowen is a Page Center Legacy Scholar since 2012 and Professor in the College of Information and Communications at the University of South Carolina.
This project was supported by a Page/Johnson Legacy Scholar Grant from the Page Center.