Tweet
Follow @ThePageCenter
Katie Place named Page Center senior research fellow, will lead 2020 research call
July 26, 2019 • Jonathan McVerry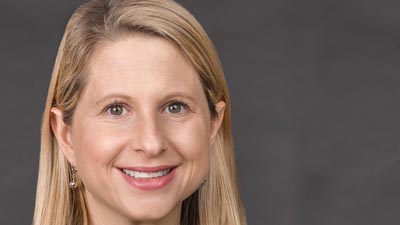 At the 2019 Arthur W. Page Awards, honoree and former Aetna CEO Jack Rowe spoke about the importance of listening. "Stay calm," he said. "Listen to what's happening."
It was wise advice. Companies don't listen to their stakeholders enough. Research says companies spend 80 percent of their time and energy on distributing messages, but only 20 percent listening. Katie Place wants to change that.
As the Page Center's newest senior research fellow, Place is leading the 2020 call for grant proposals, which is accepting research ideas that examine organizational listening. She says the topic has been "understudied" and new research could build strong understandings of listening across many areas of communications.
Details about the call for proposals will be announced on Aug. 7.
"It's about getting away from organization-centered rhetoric and instead recognizing, acknowledging, and listening to all publics as part of an organization's communications process" said Place, associate professor at Quinnipiac University. "We have a lot of work to do to understand listening in a variety of public relations contexts and workplace dynamics."
Coined by Jim Macnamara, professor at the University of Technology in Sydney, an "architecture of listening" is a process or structure that a company can use to listen to its stakeholders. Place said having an architecture of listening exists when a company commits to practices, tools and technologies that aid listening.
"It could be resources or staff dedicated to listening to stakeholders," she said. "It's conducting public relations with an active commitment to understanding them."
Place said Macnamara's work has focused on corporate listening contexts, and she hopes the Page Center call can expand on that and uncover authentic and ethical ways to engage stakeholders across multiple industry areas.
"It's an ethical responsibility of an organization to embody a commitment to listening," Place said. "I especially admired the director of a charity organization I recently interviewed who said listening is a commitment to engaging and respecting each other as fellow human beings. We all want to be heard. We all deserve to be heard."
Place's research has always tried to examine ethics from multiple perspectives. She is particularly interested in the intersection of ethics and power.
"In order to listen, you have to understand power dynamics and potentially let go of some of your position to truly understand and acknowledge others," she said.
The call for proposals will seek research that develops a greater understanding of listening in public communication. All areas of listening will be considered, but studies focused on theory development, organizational best practices, and ethical implications or listening for social change are especially encouraged.
The 2020 call for proposals is a part of the Page Center's annual Page/Johnson Legacy Scholar Grant program. Each year, the Center funds scholars to conduct innovative research on important topics facing the communications industry. In 2017, Place was named a Page Center scholar for a project on digital media that explored the "Practices and implications of digital public relations engagement with low-income publics."
"Being a Page Center scholar was definitely one of the most positive research experiences I've had," Place said. "It was great to align myself with an organization that shares the same values as I do—and it was great to be part of a group of scholars who also shared a commitment to ethics scholarship and a commitment to bettering the public relations profession."
Since its 2004 founding, the Page Center has become an international leader in research on ethics and integrity in public communication. Over the past 15 years, the Center has funded more than 200 scholars and awarded more than $870,000 in research funding.