Tweet
Follow @ThePageCenter
Marketing VP to discuss promoting sustainable consumption, ethics of GMO and organic food packaging
November 12, 2015 • Jonathan McVerry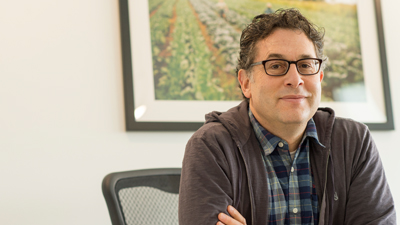 An innovative marketer and seasoned professional in the consumer packaged goods sector, Lewis Goldstein will speak at a free public lecture at 7 p.m. on Dec. 1 in Alumni Hall (HUB-Robeson Center). Goldstein will discuss the challenges of promoting organic food as a form of sustainable consumption, as well as the ethics of labeling and packaging organics.
Goldstein is the vice president of brand marketing at Organic Valley, a large family-farm run cooperative that promotes and sells organic goods. In addition to his discussion on the ever-changing organic food industry, Goldstein will also share views on how information on genetically modified organisms (GMOs) is communicated to consumers via food packaging. The lecture is titled "Communication and sustainable consumption: building an organic food brand against all odds."
He will also highlight Organic Valley's brand strategy. In particular, the "Save the Bros" marketing initiative, which is raising awareness of the risks of synthetic protein shakes and drinks. The campaign uses high-quality videos and clever social media engagements to coax consumers into considering organic protein shakes.
Goldstein has been a vice president at Organic Valley since 2011. Prior to his time at the co-op, he oversaw marketing at Kiss My Face, an all-natural skin care company. He also worked in marketing at other major companies like the Dr. Pepper-Snapple Group and the Boston Beer Company. Goldstein serves on the boards of directors for the Milk Processor Education Program and Organic Voices/Just Label It.
The lecture is a part of the Arthur W. Page Center's Professional-in-Residence program, a series that invites top communicators to University Park to speak. In addition to the lecture, the selected professionals spend several days on campus visiting communications classes, meeting with faculty and networking with others.
The Arthur W. Page Center for Integrity in Public Communication is a research center at the Penn State College of Communications dedicated to the study and advancement of ethics and responsibility in corporate communication and other forms of public communication.
The Center hosts a professional-in-residence twice a year. Goldstein is the fall 2015 guest. The spring 2016 professional-in-residence will be Jennifer Stapper, chief of communications for the United National Volunteers. Her keynote will be at 7 p.m. on Feb. 3 in the HUB Auditorium.