Tweet
Follow @ThePageCenter
New Page Center training module focuses on effects of fake news
December 15, 2020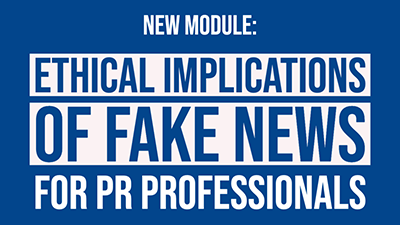 By Alyssa DeLuca, Page Center intern
The Page Center recently launched an addition to its online Public Relations Ethics Training. The new module is called Ethical Implications of Fake News for PR Professionals.
Module developer Lori McKinnon, associate professor at Oklahoma State University, says the module provides an introduction to how ethical responsibility impacts earned, owned and paid media. After understanding how native advertising impacts a company's media, the module dissects fake news and how each level of fake news simultaneously can impact a company's credibility. Two Oklahoma State University graduate students, Diana Haslett and JulianneThomison, assisted in the module's development.
Other topics in the module include: Understanding the role of disclosure, applying the TARES Test to aid in ethical decision-making, managing ethical dilemmas related to fake news through Page Principles, and recommendations to combat fake news.
McKinnon's inspiration behind the module stems from her 2018 Page/Johnson Legacy Scholar grant research with co-authors Jami A. Fullerton (Oklahoma State University) and Alice Kendrick (Southern Methodist University). The study was based on an examination of PRSSA students' ability to distinguish editorial content versus native advertising, and ultimately combatting these problems with media literacy.
McKinnon said she "hopes participants completing the training module will gain a better understanding of the ethical implications of fake news for public relations professionals."
The module includes two case studies on recent situations involving fake news: Flat Tummy Tea (Lesson 1) and Pizzagate (Lesson 2). The first case study discusses social media influencers and how influencer advertisements performed 11 times better than traditional advertisements. The case study also questions the ethics behind social media influencers, such as the Kardashians, promoting products from Flat Tummy Co., which are notoriously unhealthy and not FDA regulated.
Pizzagate, the second case study, revolves around conspiracy theories that relate directly to celebrities, politics, and the government. According to the case study, Pizzagate was so wide spread on social media, it is important to dissect the conspiracy as well as understanding how the dissemination of Pizzagate impacted the media and social media users.
To learn more about the Introduction to Diversity in Public Relations course offered by the Page Center, visit: pagecentertraining.psu.edu.
The Page Center's ethics training modules include 12 public relations-based modules covering ethics in public relations, ethical decision making and many more important topics. The modules provide professors and students with a free way to incorporate hands-on public relations learning into the classroom. Thousands of students have already completed the module with positive results and feedback from students and instructors.