Tweet
Follow @ThePageCenter
Newest Page Center training module focuses on diversity in PR
September 4, 2020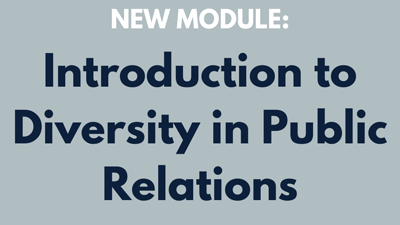 By Alyssa DeLuca, Page Center intern
The Page Center's newest online educational module, Introduction to Diversity in Public Relations, is now live on its Public Relations Ethics Training website.
The module, created by Riva Brown, associate professor of public relations at the University of Central Arkansas, provides introductory insight on the importance of diversity and inclusion in public relations. The module is one of 11 created by faculty members from universities around the world.
Topics in the diversity module include: the origins of diversity in public relations, internal workplace diversity, prejudices in public relations, among many others.
"I hope the demographics and case studies will encourage students and professors to use their PR powers for good to reach diverse populations inside and outside the classroom," Brown said.
The module was inspired by Brown's multicultural public relations course at the University of Central Arkansas. Brown went through the process of making the classwork a required part of the college's curriculum.
She said that her favorite part of creating the module was "finding good examples where PR professionals effectively reached their target audiences."
The module includes many "good" and "bad" examples of diversity in public relations. One of these examples includes a 2018 study from McKinsey & Company that examined over 1,000 organizations in 12 different countries.
"Companies ranking in the top quarter for gender diversity at the executive level were 21 percent more likely to outperform their peers on profitability, and 27 percent more likely to have excellent economic profit margins," according to this study.
Topics in the module also cover some of the many segments that make up diversity (gender, ethnicity, sexual orientation, etc.). By understanding the demographics that make up diversity, Brown said that organizations and corporations can create a more inclusive team internally, ultimately leading to "building effective strategic relationships externally."
To learn more about the Introduction to Diversity in Public Relations course offered by the Page Center, visit: pagecentertraining.psu.edu. The Page Center's ethics training modules include 11 public relations-based modules covering many topics, including digital media, ethical decision-making, framing, transparency and many other important topics.
The modules provide professors and students with a free way to incorporate public relations learning into the classroom. Thousands of students around the world have already completed the modules and the Page Center has recieved positive feedback from students and instructors.