Tweet
Follow @ThePageCenter
NGOs should work together to raise awareness of refugee crises, research says
February 2, 2016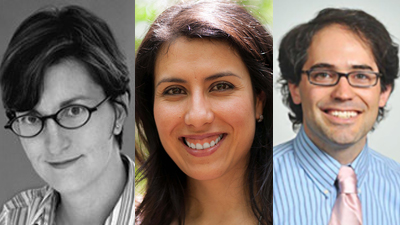 This blog post is the fourth in a series highlighting research from the Page Center's Refugee Communication Project and call for research on the refugee crisis occurring across the globe.
By Colleen Connolly-Ahern, Pennsylvania State University, Nadia Martínez-Carrillo and Daniel Tamul, Indiana University-Purdue University, Fort Wayne
International interest in the Syrian refugee crisis spiked after two events: A widely publicized drowning of a three-year-old Syrian boy in early September and the Paris terrorist attacks in mid-November. The former drew widespread sympathy for the plight of refugees fleeing violence in their home countries while the latter drew calls for increased scrutiny of refugee immigrants both domestically and abroad. What has been far less studied to date is what happens when refugees finally find their way to their new homes, in particular in the United States.
Our study examines the communication goals and strategies employed by non-governmental agencies whose mission, at least in part, helps to resettle refugees domestically. These organizations screen refugees before they enter the U.S., find suitable communities willing to host them and then provide short-term support after their arrival.
Our interviews with staff members responsible for the communications of the agencies indicate that many of these organizations formulate their communication strategies around their foundation as faith-based organizations. Five organizations in total are affiliated with specific religious denominations and a sixth has a broad Christian-based faith mission. The organizations use their own foundational faiths to connect with their stakeholders.
The organizations are aware that while many of their supporters share the same faith, many of their greatest detractors have a strong faith-based criticism of refugee resettlement. Religion then seems to be an effective way to persuade individuals who already agree or are prone to agree with the organization's goals to make donations of money or in kind. However, they acknowledge this strategy does little to change attitudes in detractors.
Another key finding of the study is that these agencies see correcting misperceptions of the general public as a goal of their outreach. Even before the Paris terror attacks, the organizations frequently addressed what they see as widespread ignorance about refugees through social media posts and fielding inquiries from journalists. Since these efforts are not new, we conclude that they are largely ineffective at changing beliefs about refugees.
One thing all our participants agreed on: it is difficult to spark new interest in refugee resettlement independent of external events. One source said people are more prone to support causes like medical research because they may have experienced the disease through an interpersonal connection. However, most people do not have this connection to the refugee experience.
To generate this interest, several sources said they leverage their experience as journalists and their own intuition to generate sympathy for refugees.
Nevertheless, our interviews indicated that journalistic interest in refugees is largely outside of the agencies' control. One source put it this way: "It's a self-aggrandizing hot mess of a spectacle. Everybody wants to slow down and look at the car wreck once the car wreck is known about." Like car accidents then, refugees lead when they bleed.
Finding a refugee with a compelling and newsworthy story is no easy task. That said, we recommend the voluntary agencies consolidate their efforts at communicating with and about refugees. As one source stated "The easier you make it for a news crew to interact with a refugee, the more likely you're gonna get the story." Each organization has access to a wide variety of refugees that it has resettled, many of whom have compelling stories to tell. Such stories can be used for the multiple purposes of correcting misperceptions, generating public interest, and cultivating sympathy for refugees.