Tweet
Follow @ThePageCenter
Page Center adds three senior research fellows
August 27, 2020 • Jonathan McVerry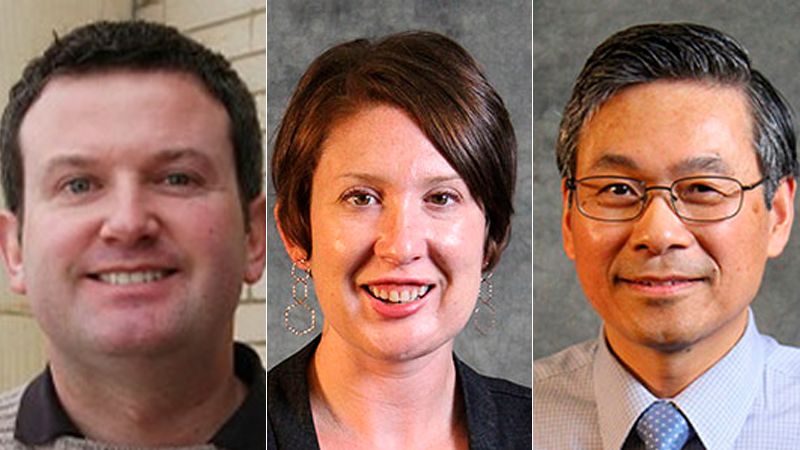 Three Penn State faculty members joined the Arthur W. Page Center as senior research fellows. The researchers will add expertise in three different areas of public communication further broadening the Center's reach in the field.
All three fellows are faculty members in the Donald P. Bellisario College of Communications' Department of Advertising-Public Relations. They are Frank Dardis, associate professor; Stephanie Madden, assistant professor; and Fuyuan Shen, professor and head of the Bellisario College's Ad-PR department.
Frank Dardis
With support from the Page Center, Dardis is running a project that will track how non-profits and other companies and corporations communicate their environmental initiatives. This includes verbiage on websites, social media outlets and other official documents. Once major themes and frequently used terms are identified, Dardis will run an experiment to see what strategies work best.
"In our experiment, we will show people the content companies are using and see how they react," Dardis said. "What's going to change people's minds quicker or for the better?"
He added that the Page Center funding will "help figure out the actual effectiveness or impact that the messages have."
Dardis' research often focuses on the psychological and persuasive effects that informational messages have on individuals. He has taught undergraduate and graduate courses for the Bellisario College since 2003. In 2015, he led the creation of the College's Strategic Communication online program. He is also an affiliate of Penn State's Media Effects Research Lab.
Stephanie Madden
Madden's role as a senior research fellow will be two-fold. She is leading two of three 2021 Page Center calls for research proposals. One of Madden's calls will collect research ideas on the topic Ethics of Care. Specifically, the call will recruit researchers who will examine how ethics of care can bridge theory and practice among a range of areas—from global perspectives and political communication to marginalized communities and relationship management.
The other call for proposals will include module development on the topic of activism. Academic literature continues to grow around activism and activist public relations, but Madden says there are few resources available for classrooms and curriculum. The goal of this project will be to offer a series of lessons, created by scholars, that can be easily adopted into public relations classrooms.
"For me, it's always been about activism," Madden said. "It's about using strategic communication or public interest issues to create social change. The Page Center is doing great work in offering a lot flexibility in topics that can help improve public communication."
Both of these calls will be announced in the coming weeks.
Madden has been an assistant professor at Penn State since 2018. She has a passion for advocacy and social justice issues, and her research focuses on the intersections among activism, risk and crisis communication, public safety and social media. She is currently a vice-chair of the Social Media Committee for the Public Relations Division of AEJMC.
Fuyuan Shen
Shen led the 2019 research call on narratives with Heidi Hatfield Edwards from the Florida Institute of Technology. Nine projects were funded (including one by Madden) and are currently in progress. A special volume featuring the completed research is scheduled for next year.
The Page Center also funded a project that was published in the International Journal of Communication. Michail Vafeiadis, Auburn University, was the lead author along with Shen and Jiangxue Han, Appalachian State University. The study examined the effects of visual narratives in news coverage of genetically modified organisms in the agriculture industry. According to the results, "news narratives can persuade through transportation and sympathy when conveying information about sensitive topics."
"The Page Center has enabled me to work on various projects," Shen said. "We're really excited about our special volume of research that we will have later on."
Shen has been teaching at Penn State since 2001. He became a full professor in 2016 and has been the chair of the Department of Ad-PR since 2017. He is also an affiliate of the Penn State Media Effects Research Lab. Shen was named a Page Center scholar in 2015 for his research on visual narratives in environmental communication.