Tweet
Follow @ThePageCenter
The Page Center welcomes John Onoda to its advisory board
September 23, 2020 • Jonathan McVerry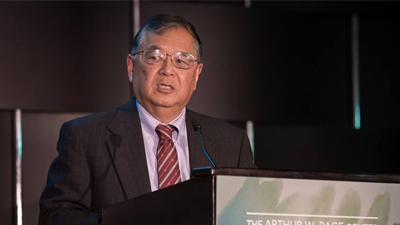 John Onoda, one of the most respected and knowledgeable communicators in public relations, joined the Arthur W. Page Center's advisory board. He brings more than three decades of experience and has become a voice of integrity across corporate communications.
Originally from the Midwest United States, Onoda started his career as a journalist at the Omaha World-Herald before reporting for the Houston Chronicle. In 1981, he moved to corporate communications serving as a senior communications associate for Mitchell Energy.
The rest of his career would see Onoda in leadership positions at some of the most recognizable companies in the world, including Levi Strauss & Co., General Motors, Visa USA and Charles Schwab & Co. He has also worked as a consultant and adviser at both FleishmanHillard and Gagen MacDonald.
Nowadays, he works as an independent consultant and is brought in as a senior strategist for several boutique firms in the United States.
"Looking at John's career, it's no surprise that he's become a leader among leaders," said Denise Bortree, Page Center director. "John has seen it all, and we are fortunate to have his experience, integrity and vision as part of our advisory board."
Described as a true "renaissance man" by fellow board member Tom Martin and dubbed by many as "The Yoda of PR," Onoda has overseen all areas of corporate communication from thought leadership to crisis communications and gained a reputation for a business philosophy built on thoughtfulness and integrity.
Onoda, who received a Larry Foster Award for Integrity in Public Communication at the annual Arthur W. Page Center Awards in 2018, said the Center has served a vital purpose in the field since its founding, but is perhaps more important than ever today.
"When you read about the Page Center, it's like 'wow,' how prescient for someone to have seen the need and create a Center?" Onoda said. "I'm not sure they knew things would get as bad as they are today – or maybe they did."
He added, "The Center and what it stands for, at least in my universe, is important to society…and it's important at a global basis."
Onoda has served on a number of boards, including the Arthur W. Page Society's and the International Association of Business Communicators Foundation's boards. He is currently on the board of the U.S.-Japan Council. Onoda is also an avid reader and runs an online community called Best Dozen Books that gives readers a forum to share thoughts, opinions and recommendations.
Since its 2004 founding, the Page Center has become an international leader in research on ethics and integrity in public communication. Over the past 16 years, the Center has funded nearly 250 scholars and awarded more than $900,000 in research funding.
Other members of the advisory board are:
Roger Bolton, president of the Arthur W. Page Society and former senior vice president of communications at Aetna
Denise Bortree, Center director and associate dean at Penn State's Bellisario College of Communications
Sandra Clark, vice president for news and civic dialogue at WHYY
Suki Dardarian, senior managing editor and vice president at Minneapolis' Star Tribune
Ellyn Fisher, senior vice president of public relations and social media for the Ad Council
Marie Hardin, dean of Penn State's Bellisario College of Communications
Aedhmar Hynes, former CEO of Text100
Maril MacDonald, CEO of Gagen MacDonald
Bill Margaritis, business consultant and investor
Tom Martin, executive-in-residence in the Department of Communication at the College of Charleston
John Nichols, emeritus professor at the Bellisario College
Bill Nielsen, chair of the advisory board and former vice president of public affairs at Johnson & Johnson
Gary Sheffer, Sandra R. Frazier professor of public relations at Boston University and former vice president of corporate communications and public affairs for General Electric
Charlene Wheeless, CEO at Charlene Wheeless LLC and current chairperson of the Page Society