February 19, 2020
Intercontinental New York Barclay Hotel
New York City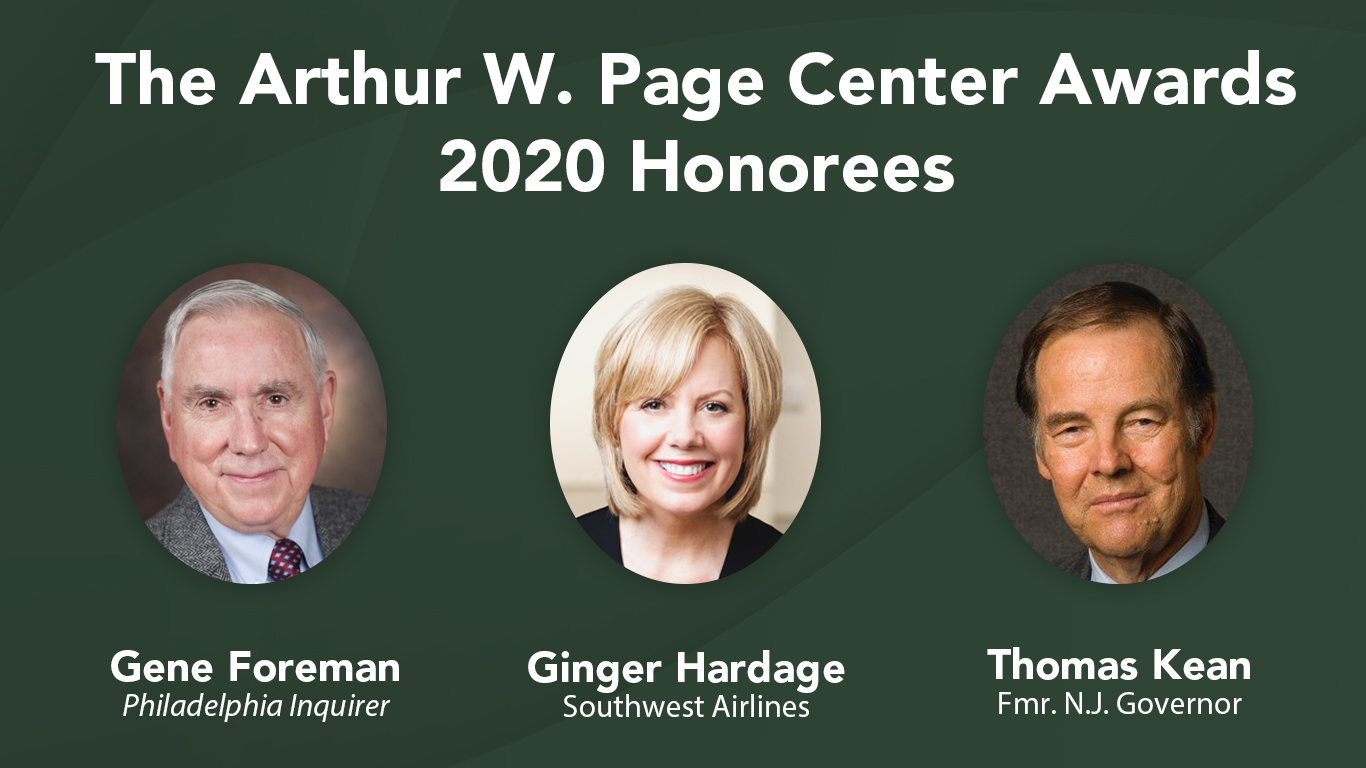 The fourth annual Arthur W. Page Center Awards will honor Gene Foreman, former managing editor of the Philadelphia Inquirer; Ginger Hardage, former senior VP of culture and communications at Southwest Airlines; and Thomas Kean Sr., former New Jersey governor and chairman of the 9/11 Commission. The renowned communicators will receive a Larry Foster Award for Integrity in Public Communication at our special awards dinner on Feb. 19.
Learn more about this year's honorees.
Every year the Arthur W. Page Center honors individuals who over the course of their careers have demonstrated consistent and fervent commitment to the concept of "truth well told."
The Larry Foster Award for Integrity in Public Communication recognizes professional excellence in the fields of public relations and journalism. Foster dedicated much of his career to these areas. Fifteen years after its founding, the Page Center recognizes its founder's legacy by honoring communicators who have achieved national stature as trusted sources of information, thereby influencing the formation of public awareness, public opinion and public permission.
This awards dinner is a fundraiser that supports innovative research by communications faculty and professionals around the world. Center scholars examine topics involving ethics and its role in all forms of public communications. Topics include corporate social responsibility, advocacy communications, "fake news," sustainability, digital media ethics and more.
Learn more about the Center's initiatives on its website.
Registration Information
Premium Tables
$7,500
10 seats
(Includes: Your company logo on event step-and-repeat located in the reception area. Your company logo in the event's program given to guests. Your company logo on all pre-event promotions, social media and web site. Chilled bottles of champagne for table guests. Premiere table location at the awards dinner.)
Standard Tables
$5,500
10 seats
Single Seat
$500
One seat
Donation
Can't attend, but still want to contribute?
There are donation options on our registration site.
Contact Information
Event Contact
Jonathan McVerry (jmac@psu.edu)
814-865-3065

Sponsorship Contact
Adele Durham (adele.durham@gmail.com)
Last Year
Relive the 2019 Arthur W. Page Awards when the Center honored
Dean Baquet, Marylin Laurie and Jack Rowe. Learn about all of the past Larry Foster Award honorees on the awards page.
About the Center
The Arthur W. Page Center is dedicated to the study and advancement of ethics and responsibility in corporate communication and other forms of public communication. Since its 2004 founding, the Page Center has become an international leader in research on ethics and integrity in public communication. Over the past 16 years, the Center has funded more than 200 scholars and awarded more than $870,000 in research funding. Visit the Page Center website for more information about the Center and its many initiatives.
Page Center Advisory Board
Bill Nielsen (chair)
Former head of communications at Johnson & Johnson
Roger Bolton
President of the Arthur W. Page Society and former senior vice president of communications at Aetna
Sandra Clark
Vice president for news and civic dialogue at WHYY
Suki Dardarian
Senior managing editor and vice president of the Star Tribune
Ellyn Fisher
Senior vice president of public relations and social media for the Ad Council
Aedhmar Hynes
Former CEO of Text100
Marie Hardin
Dean of the Bellisario College of Communications at the Pennsylvania State University
Jon Iwata
Executive-in-residence at the Yale School of Management
Maril MacDonald
CEO of Gagen MacDonald
William Margaritis
Business consultant and investor
Tom Martin
Executive-in-residence at the College of Charleston and
former vice president of communications at ITT and FedEx
John Nichols
Emeritus professor of communications at the Bellisario College of Communications at
the Pennsylvania State University
Dave Samson
General manager of public affairs at Chevron Corp.
Gary Sheffer
Sandra R. Frazier professor of public relations at Boston University
Denise Bortree
Director of the Page Center and associate professor of advertising/public relations at
the Pennsylvania State University