John Curley Center for Sports Journalism
Knight Chair in Sports Journalism and Society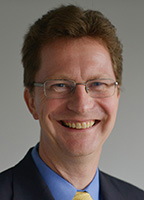 John Affleck, a veteran journalist with a track record of success as a national manager in both sports and news at The Associated Press, joined the Donald P. Bellisario College of Communications faculty in August 2013 as the Knight Chair in Sports Journalism and Society and director of the John Curley Center for Sports Journalism.
Since joining the faculty, Affleck has focused on giving students with a classroom experience that will prepare them to step right into a newsroom and perform well. He does this by providing attentive editing, practical tips, on-campus reporting assignments and an accent on working with the latest storytelling tools.
Affleck has directed students on independent studies and major projects that have been professionally published, and created Curley Center news bureaus to cover events such as the Croke Park Classic -- Penn State's 2014 football opener in Dublin -- and a NASCAR Sprint Cup race in the Poconos for professional organizations. His goal is to regularly put Penn State students into situations where they can gain experience and have a positive impact on the journalism industry even as they earn their undergraduate degrees.
Affleck has brought a mix of speakers to campus who are stars in the field (Sports Illustrated's Peter King, for example) as well as those who have a perspective on sports issues of the day such as Indian mascots, and the dearth of openly gay and lesbian athletes in the top U.S. team sports. He also regularly writes for publication himself and appears as a guest on radio programs, discussing major sports and sports media issues. In 2014-15, he served as the faculty adviser to the campus chapter of the Association for Women in Sports Media.
During his 22-year career at the AP, Affleck served as a reporter, editor and national manager, working regularly with all of the organization's major editorial departments. In his final role before joining the University faculty, he helped manage day-to-day operations for the roughly 70-member domestic sports team. He also directed coverage of the Lance Armstrong saga, ran the Sport Department's enterprise work, and coordinated efforts with the news department as the Jerry Sandusky case unfolded.
Affleck also directed coverage of college football, including the last five Bowl Championship Series national title games. He also oversaw the wire service's 2013 Final Four coverage and was a key editor at the World Cup in South Africa, and at the Summer Olympics in Sydney and Athens.
Reporters and projects under Affleck's direct supervision have been honored in dozens of regional and national contests, and have earned awards from a wide array of groups, including the nation's education writers, religion reporters and the lesbian and gay journalists association. Work under his guidance has captured the AP's top internal prizes for news enterprise, sports enterprise and sports features.
Affleck began his AP career in Albany, N.Y., cranking out leads on college football and basketball as well as minor league hockey and baseball from his slot on the night desk. He later reported from the state Capitol and then ran the offices in Buffalo, N.Y., and Cleveland before moving to the organization's main office in New York. He brings an appreciation of journalism fundamentals and an understanding of the need for innovation in the changing multimedia journalism environment to his position.
Affleck grew up in Syracuse, N.Y., and has been a competitive runner for most of his life, once finishing in the Top 500 at the Boston Marathon. He was ranked nationally as a master's competitor by USATF in four events (800 meters, 1,500 meters, 3,000 meters and the mile) as recently as 2005. He is married to Jessica Ancker, an associate professor at the Center for Healthcare Informatics and Policy at Weill Cornell Medical College in New York City.