Hours after Pittsburgh officials announced their intent nearly 14 months ago to win the fiercely coveted second Amazon headquarters, a reporter for an aggressive city-based news site began drafting public-information requests — looking for tax breaks and real-estate incentives being offered to seduce one of the world's wealthiest companies.
J. Dale Shoemaker, of PublicSource, wanted to know exactly how Pittsburgh planned to compete against more than 200 cities in luring the e-commerce giant — and at what expense to taxpayers. In return for incentives from the host city, Amazon was promising an investment of over $5 billion and as many as 50,000 high-paying jobs.
Shoemaker was looking for everything shielded behind the nondisclosure agreements, from how much it cost to formulate the final bid itself to the potential subsidies and sites listed in the proposal, called "Future. Forged. For All."
Shoemaker filed the requests after city officials conducted what he called a "ridiculous" press conference in which they did not give reporters any answers.
"I thought if I filed a Right-to-Know [request], that's pretty bulletproof," the reporter said. "They can't say no to it."
Pittsburgh didn't turn over any documents. Neither did Allegheny County or Gov. Tom Wolf's office. Shoemaker appealed to the state Office of Open Records (OOR), which agreed with him but was unable to force swift disclosure.
A year elapsed, and the reporter was still in the dark. But one month later, on Nov. 15, Shoemaker had his answers, as he'd been dubiously promised all along.
City officials were no longer protecting their Amazon bid as a trade secret: Pittsburgh had lost to Queens, New York, and Arlington, Virginia, as the split headquarters victors.
But Terry Mutchler, a private attorney representing PublicSource, said releasing the information after the fact wasn't the point. Mutchler, a longtime advocate of open government, had been the OOR's founding executive director.
"Taxpayers were going to be on the hook for what [officials] were offering," she said. "They should have known what they were agreeing to up front."
Looking back, Shoemaker said, he was naïve to believe Pennsylvania's revamped and much celebrated Right-to-Know Law (RTKL) would function as intended.
It was 10 years ago that the state legislature approved and then-Gov. Edward G. Rendell signed an overhaul of the half-century-old RTKL. The law was supposed to unleash sweeping access into governmental dealings.
It created the OOR to handle appeals from citizens and reporters, like Shoemaker, and oversee how other state agencies responded to requests for documents.
No longer was it up to a requester to explain why a record should be deemed public knowledge. Under the 1957 law, a requester couldn't even be certain whether an agency record existed in the first place ­— or what information was in the record.
"You're headed down a road one way for years, and then suddenly you have to turn around and go the other way," said Mutchler, recalling the early days of the law. "We were trying to change the flow of the river, basically — at least the flow of information."
Amazon notwithstanding, in many cases, the law has worked. About 100,000 requests are made each year, to the smallest local boroughs and townships to massive state agencies with satellite offices strewn across Pennsylvania. Of those, 2.5 percent make their way to the OOR in the form of an appeal.
"Undeniably, the Legislature created a strong law and provided meaningful access to thousands [of] records previously off limits…" Mutchler wrote in the office's second annual report in 2010. "Across the nation, states like Washington, Iowa, Maryland, Illinois and Tennessee are looking to what they call the 'Pennsylvania Model' to create similar independent offices."
"We were trying to change the flow of the river, basically." - Terry Mutchler
But for all its success in tracking down email exchanges and obscure databases, the decade-old law is experiencing growing pains, as the Amazon case illustrated.
"There are some very good provisions, and there are some provisions that, in retrospect, are just downright boneheaded," said Donald Gilliland, the president of the Pennsylvania Freedom of Information Coalition. He scornfully quipped that access laws in other states, like Florida, would "curl some Pennsylvania lawmakers' hair."
Fellow critics said there are notable shortcomings: For example, quasi-public universities, like Penn State, face only barebones disclosure requirements, despite receiving about $230 million in state appropriations. And the OOR can't levy fines against rogue agencies, even when they evade records requests for months. It can issue only "binding" orders.
"There's not enough teeth in the law," said Paul Muschick, a columnist at The Morning Call in the Lehigh Valley. He said some agencies "play games and thumb their noses at the law."
The RTKL can be too sprawling — too malleable, with its 30 broad exemptions — to shed light on local or state government, Shoemaker said.
"The real issue is there is a culture of secrecy that permeates Pennsylvania," said Melissa Melewsky, media law counsel of the Pennsylvania NewsMedia Association (PNA).
Reporter Alison Kuznitz explains the Open Records Law
---
Former Senate Majority Leader Dominic Pileggi always had a radical, and perhaps slightly unpopular, stance on government. He wanted everyday citizens to know about his work, even about the pettiest detail or most nuanced tidbit of information.
"People might not like what government does, but there shouldn't be any question about what government does — who is a moving party and who is an opposing party," said Pileggi, now a judge in Delaware County. "That seemed to me like an issue that should be off the table."
In 2006, Pennsylvanians were still reeling after General Assembly members voted overnight to give themselves a pay hike. Confidence in state government plummeted.
Pileggi gathered staffers around a conference table in his office, looking for a solution. Erik Arneson, an aide at the time and a former newspaper reporter, remembers making his pitch: Improve the RTKL. Flip the presumption of agency access and instead let citizens, the taxpayers, be the true owners of information.
Although a new law would not explicitly address secrecy by the legislature (or the judiciary), it would eliminate hurdles to obtaining proposed resolutions, roll call votes and financial reports, among other records. Arneson said it made sense to Pileggi, the former mayor of Chester, in Delaware County, who had experienced the "terrible" old law firsthand.
By February 2008, within 14 months, the RTKL was passed and signed into law. "That's a remarkably fast pace for a big piece of legislation in the General Assembly," Arneson said.
When Mutchler arrived in Harrisburg, all she and the OOR had was a cubicle and the single piece of legislation. Today, the OOR has a spacious location on Market Street. A 16th-floor vantage point, fringed by the Susquehanna River, offers literal and figurative oversight of the green-domed Capitol.
Mutchler would put in 20-hour days, recruiting a fulltime staff, gaining support from newspaper editorial boards and picking out color swatches for walls and furniture. In the earliest moments, she didn't even know where the extra copy paper was — let alone how she'd build policies to kick-start the RTKL.
"I felt like I was getting married to something, but I didn't know to what," said Mutchler, who served a seven-year term. "It was an extraordinary challenge."
The new law allowed citizens to appeal to the OOR whenever they were dissatisfied with how state agencies responded — or chose not to respond — to their information requests. About 1,200 appeals flooded in that first year. Nathan Byerly, one of Mutchler's first hires and now the OOR deputy director, felt lucky if he could catch a few hours of sleep each night.
The RTKL requests themselves aren't always compelling, Byerly admitted, but it's the stories behind them that make them meaningful.
For instance, one inmate inquired about the type of materials in the socks and boxer underwear provided by the Pennsylvania Department of Corrections, lamenting the holey, stretched-out fabric. Another inmate, who had committed a homicide, inadvertently asked for his own autopsy report.
It was up to Byerly and fellow appeals officers to decide the merits of these requests, including what constituted an agency record. No one expected the public would so eagerly latch on to the law, Byerly said, and use it at such a high volume.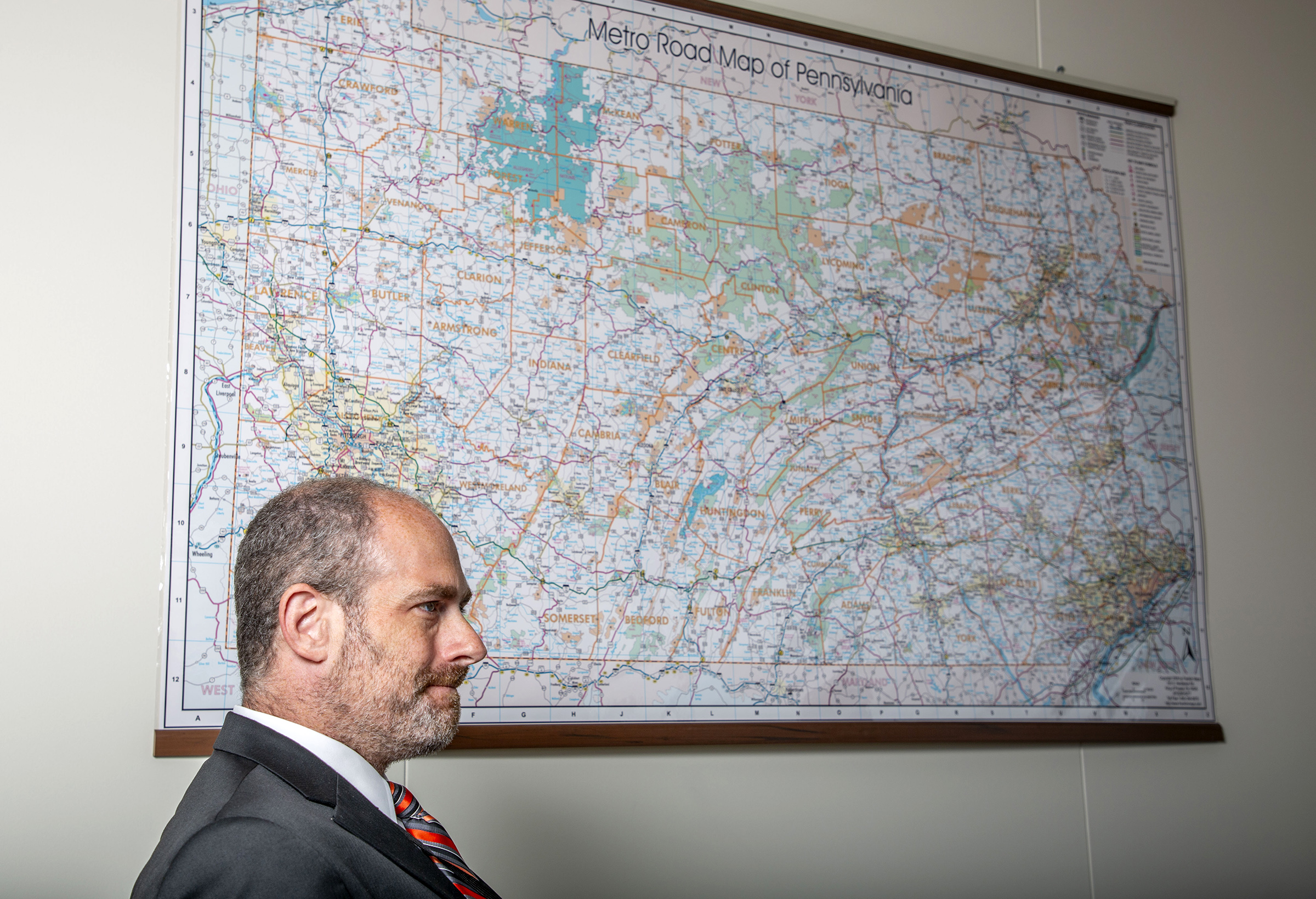 "We had almost anything and everything happen to us," he said. "It's been a wild ride, but a great ride, to see Pennsylvania go from being one of the worst accountability and transparency states to being one of the best."
Once appointed, Mutchler said, she tried her best to prepare for the deluge of "rainfall," as she described the many requests. But she was dealing with governmental forces not interested in divulging records. Mutchler likened herself to the biblical David and Rendell's administration to Goliath: The two would clash over the OOR's level of independence and whether the agency had an adequate budget.
"I really thought I was in a cabinet position. This was my moment," Mutchler said. "What I came to quickly realize was, 'I'm on the team. It's called the opposing team.'"
"It's been a wild ride, but a great ride, to see Pennsylvania go from being one of the worst accountability and transparency states to being one of the best." - Nathan Byerly, OOR deputy director
PublicSource managing editor Halle Stockton takes a long pause while pondering the strengths of the RTKL. She giggles.
"I'm really coming up empty," Stockton said. "Maybe I'm just being super negative."
She's angry about the Amazon bid, disillusioned that the spirit of Pennsylvania's law is not being upheld and that the best recourse for news organizations, she said, is to pay lawyers to fight for public information.
Stockton started her journalism career in Florida, where she never once was denied a records request.
She asks rhetorically whether the RTKL is really working when a nonprofit news organization like hers has to spend thousands of dollars "to look at something that is purely just how the city and state is looking to sell itself to a multi-billion-dollar corporation."
Shoemaker's initial requests spun into six appeals to the OOR, which ruled mainly in his favor. In February 2018, Pittsburgh was ordered to turn over a copy of the highly contentious Amazon bid and ancillary records. Other rulings similarly reverberated throughout the governor's office and Allegheny County.
But Shoemaker still couldn't get what he was after. Fellow Pittsburgh journalists remained just as stymied. No officials would show their cards, as Shoemaker put it, into how they were "sweetening the deal with tax incentives."
This November, when Pittsburgh revealed its bid, it turned out the region and Pennsylvania had tendered approximately $6.7 billion in incentives as well as tax advantages to Amazon. The city's proposal also outlined 35 potential sites to accommodate the corporation.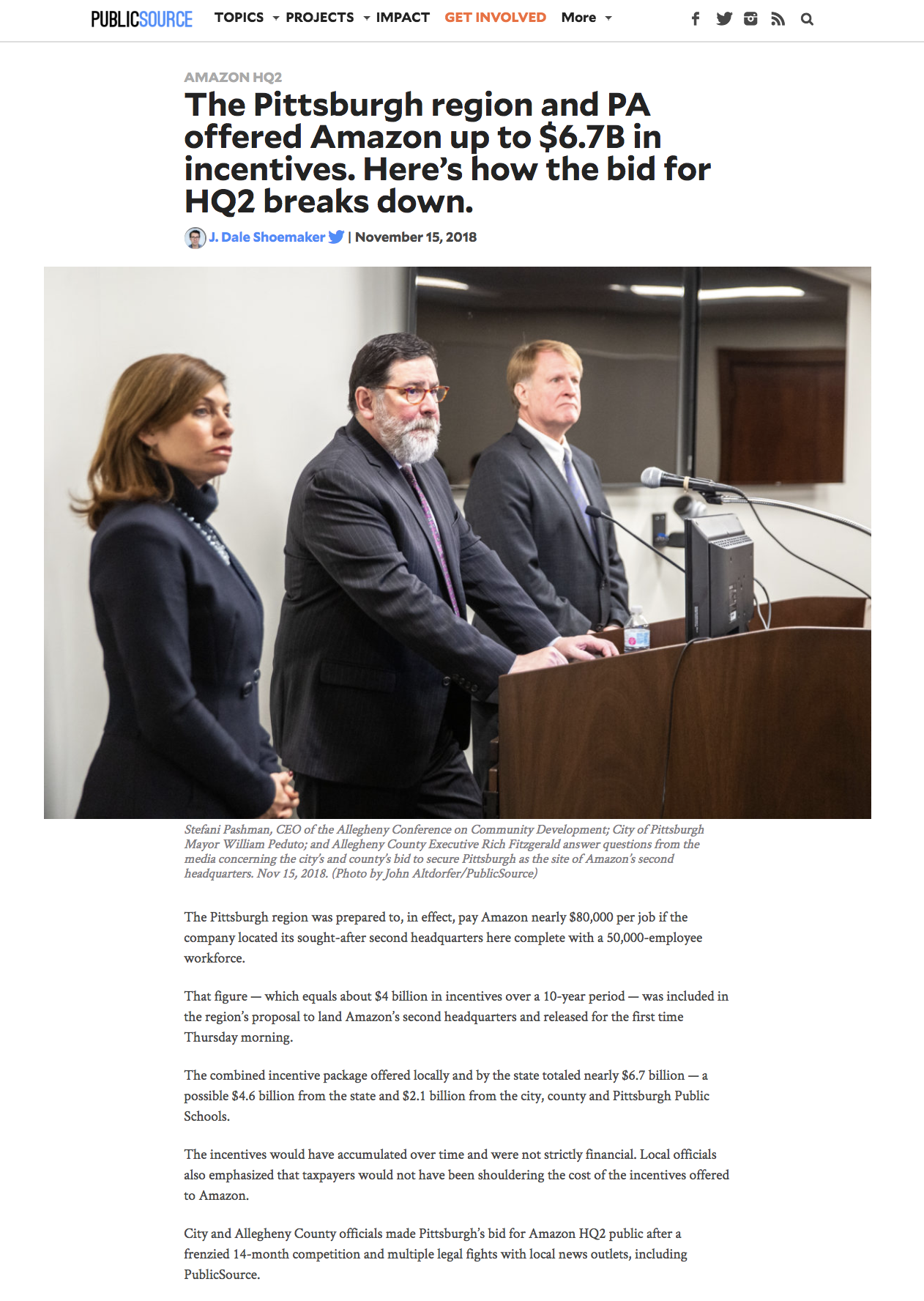 Governmental offices initially opted to circumvent the OOR's binding decisions — and go to court as the headquarters hunt loomed. Allegheny County, in its petition for judicial review, went so far as to accuse the OOR of "bias and prejudgment."
Hearst Television, the parent company of WTAE-TV in Pittsburgh, was among media companies involved in litigation to defend the public's right to know.
The law, Shoemaker said, has been the cornerstone of his data-driven reporting. More recently, it has become an increasing source of frustration.
"The fact that it can take years and years to get documents you requested is not a perfect system," Shoemaker said. "A perfect system would be, 'I requested it, I get it a week later.'"
Routine requests can span 35 days, once an agency takes the full five business days to respond and then tacks on a 30-day extension.
Melewsky, of the PNA, and her colleagues field nearly 750 questions each year surrounding the RTKL.
She hears all about the agencies that use external contracts and then attempt to "contract away the public's right to know." Except that's not how the law is supposed to work — the outside organization, as a surrogate for the agency, is likewise subject to public scrutiny.
When the New York Yankees Triple-A affiliate at Scranton/Wilkes-Barre began accepting bids for concession stands, a local newspaper reporter unlocked the details. Through a contractual arrangement, one-third of net income would flow directly to the stadium authority, an offshoot of the Board of Commissioners of Lackawanna County. The logistics of selling beer, hotdogs and T-shirts, in this peculiar scenario, became a government function and fell under the RTKL's jurisdiction.
Melewsky hears all about agencies refusing to disclose information — a date of a birth, a zip code — about individual citizens for the sake of their privacy, even if the requester believes there's a public-interest component.
And Melewsky hears all about the criminal investigative exemption, which could permanently seal a record. At least 10 callers each week on the PNA's Legal Hotline reckon with this constraint, Melewsky said. They want to know, for instance, the grisly details surrounding a Penn State student who was murdered in the library "stacks" during the 1960s.
Brad Bumsted, bureau chief of a Pennsylvania watchdog publication called The Caucus, sarcastically said: "It could be a criminal investigation during the Civil War, and they could invoke that" exemption. A veteran reporter, Bumsted lamented the Right-to-Know Law, both the 1957 and 2008 versions.
"Going back to the 1950s, it was just particularly weak," he said. "It's not particularly strong now. It's medium strength."
He's grown accustomed to the Right-to-Know shuffle, as agencies ignore his requests or draw them out for as long as possible. He's written about it, too.
A major student-loan provider had published its contracts that were worth $5,000 or more online, as required by state law. But on the Department of Treasury portal, brandished as a symbol of transparency, some of the agency's contracts for services — like garbage collection from state Sen. Scott Wagner's Penn Waste company — were heavily redacted.
Soon enough, Bumsted and Caucus investigative reporter Paula Knudsen, a trained lawyer, were calling everyone at the Pennsylvania Higher Education Assistance Agency to find out what lay hidden beneath the blacked-out text. Board members would barely acknowledge their queries.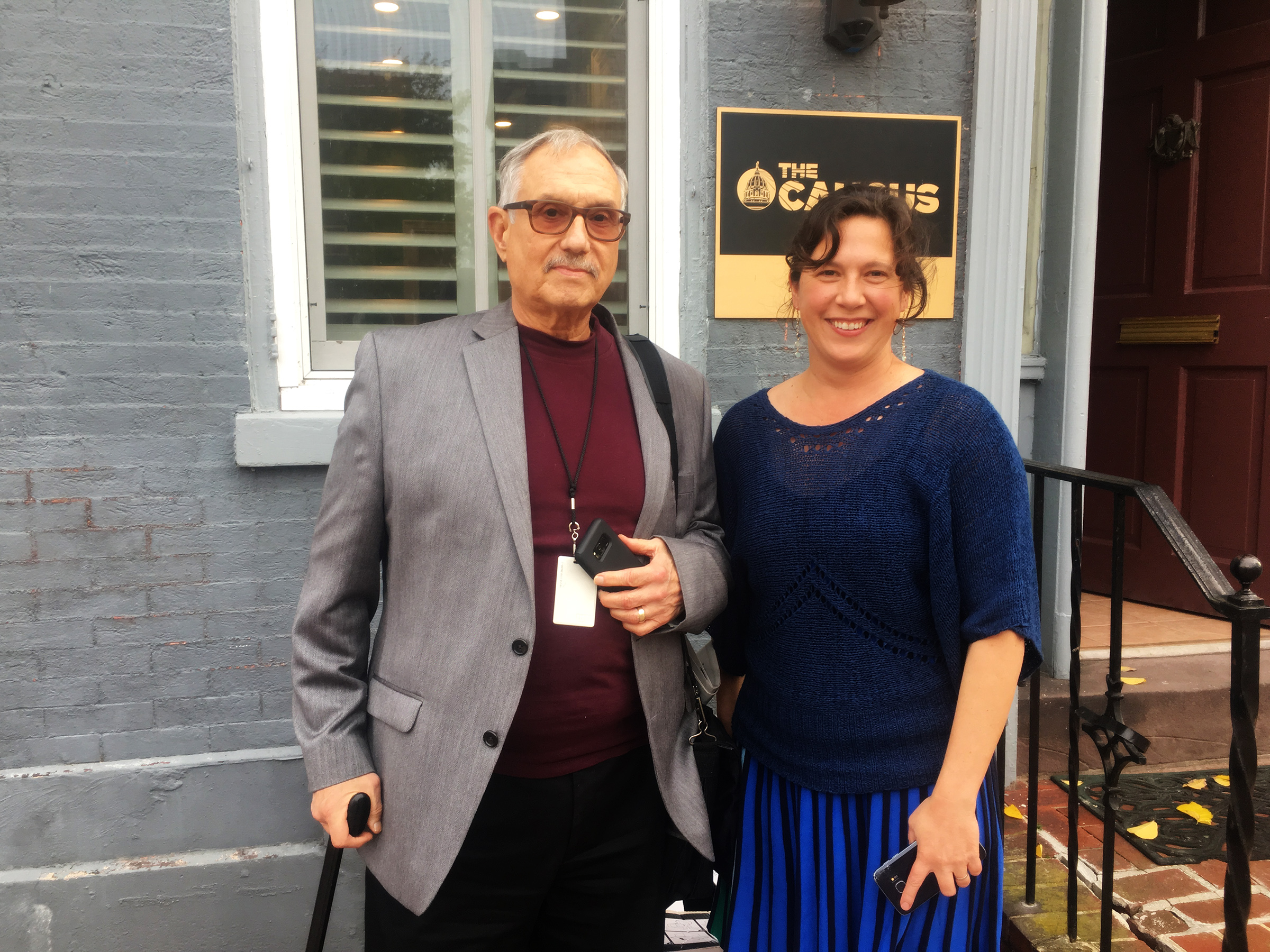 Bumsted saw it as a classic case of stonewalling public access, which was restored following The Caucus's unrelenting stream of questions. PHEAA eventually launched an internal review to ensure compliance with "both the letter and spirit of the RTKL," specifically exploring prior cases of close-mouthed practices for managing contracts. And, PHEAA began swapping out its censored e-contracts on the Treasury portal with unredacted versions, The Caucus reported.
One of the most popular videos on the Harrisburg news website PennLive is called "REDACTED." It rapidly scrolls through medical marijuana grower and dispensary applications, showing large black boxes that conceal basic insights — including who is funding proposed operations.
It's an egregious Right-to-Know smokescreen, said Cate Barron, vice president of content at The PA Media Group, the parent company of PennLive.com and The Patriot-News of Harrisburg. It can't happen, she said, with a state industry just beginning to bloom.
"It's so ridiculous, especially in something that is so important," Barron said. "We don't know why the [Department of Health] is lacking transparency. We don't get it."
---
There is an entire section in the revised RTKL about Penn State, the University of Pittsburgh, Temple University and Lincoln University.
The four schools are called "state-related institutions," a quirky category that's not quite public or private. They get some state money but are not "state-owned" institutions, such as Bloomsburg, Shippensburg and Slippery Rock universities.
Their status, Arneson said, translated to "in-between treatment" as he was writing the RTKL a decade ago. These schools must publish basic financial reports and the salaries of all officers and directors, in addition to the next 25 highest-paid employees, but not much else.
The state-owned schools, in contrast, must supply the same types of information as any other agency or department: emails, budgets and surveillance videos, among other records.
"I think that's fair, but I also think it's fair for them to be subject to further disclosure requirements," said Arneson, who became the second OOR executive director in 2015.
Mutchler, meanwhile, operates under a different principle: "Every taxpayer dime needs to be accounted for, and that's the way it should be."
After Penn State assistant football coach Jerry Sandusky was arrested for child sex abuse in 2011, the state's flagship university clung to the law.
Penn State wasn't going to — and, more importantly, didn't have to — comply with an unsettling request from ESPN, seeking reports and interview transcripts linked to a 1998 Sandusky investigation. The revised RTKL looked tight-lipped and archaic.
"When the tragedy occurred, we thought, 'Why isn't this information available to the public, and why can't the media get it?'" state Sen. John Blake said.
---
Blake is currently sponsoring Senate Bill 466, intended to heighten transparency at state-related institutions. More salary information would be accessible, along with revenue reports and campus police records.
Blake, in large part, is carrying on Pileggi's legacy.
Before Pileggi, the former senate majority leader, resigned in 2016 to become a judge, he and Blake had already begun thinking about refining the 2008 RTKL. The experiment into governmental openness revealed some groups were all too eager to file requests, unwittingly clogging up resource-strapped agencies.
"We didn't expect the volume of for-profit businesses that have taken advantage of the law," Pileggi said. "We were really thinking of it more in the context of private citizens and the press."
As springtime approaches, pool suppliers often flock to zoning offices to sharpen their advertising arsenal. Building permits will identify all the swimming pools in town — and a swath of potential customers. Similarly, pet-grooming services are known to request dog licenses registered at town hall.
In one of Senate Bill 465's proposed changes, agencies could charge "reasonable" fees for commercial requests. Taxpayers, as the argument goes, shouldn't have to broker a business' success or market insights, even if they are the "custodians" of records.
"The law works well now," said Elam Herr, the assistant executive director of the Pennsylvania State Association of Township Supervisors, which offers support to public officials across the commonwealth. "What we don't want is a law that gives somebody the ability to abuse it in a way that doesn't benefit community or society."
According to the OOR's 2017 annual report, 63.5 percent of appeals came from everyday citizens, followed by 18.4 percent from inmates, 10.1 percent from companies, 6.3 percent from the media and 1.6 percent from government officials.
A related clause in Blake's bill would clamp down on those inmate queries, limiting them to only personal records and information about their incarceration.
One time, Arneson said, an inmate sought Taylor Swift's education records, all because the pop star attended school in Berks County, Pennsylvania. Another inmate sent a Right-to-Know request to Blair County, Pennsylvania, mistakenly believing "The Blair Witch Project" movie was filmed in the state. (It was in Maryland.)
"We've had so many cases where inmates would file seemingly just because it was a way to occupy their time," Arneson said. "Putting some common-sense restrictions is important to making sure things run as efficiently as possible under this law."
Arguably the most promising aspect of Blake's RTKL updates also happens to be the most controversial, at least from a government standpoint.
Enforcement. A civil penalty, as steep as $500 each day from a court, could be waged against agencies or officials who fail to provide documents deemed public, according to Senate Bill 465.
"Fines…would create the financial pressure on these agencies," Stockton said. "If they keep racking up fines, then taxpayers are going to get upset, council people will get upset."
Whenever thick envelopes arrive at PublicSource, it signals a celebration. A Right-to-Know request panned out.
It's those flimsy, thin letters, though — cueing a denial — that can make Stockton feel powerless. While it's simple to appeal to the OOR, Stockton said, she also knows agencies are emboldened, at times, to ignore official rulings sans price-tagged penalties.
Recently, a judge forced Reading, Pennsylvania, to pay upward of $12,000 in legal fees to a labor union after disregarding multiple records requests. The city was already grappling with a "bad faith" finding from the OOR, precisely for not complying with basic RTKL requirements. Muschick, of The Morning Call, called the very idea of a municipality embattled in court proceedings a "disgraceful way to waste tax dollars" in an August column.
"There should be a mechanism to force an agency to take action," Muschick said in an interview. "You can't just bury your head in the sand."
This January, Blake said, he plans to reintroduce the two bills — one for the state-related schools, the other for miscellaneous RTKL flaws.
"It's good public policy, and it should be able to get to the governor's desk," he said.
---
Craig Staudenmaier, a leading Right-to-Know and media lawyer in the commonwealth, jokingly said he wants to be put out of business. It would herald that "Pennsylvania was being transparent and everyone was playing nicely," he said.
For the most part, agencies are. By now, they've had 10 years of practice.
Muschick was pursuing complaints in 2016 against an electricity supplier, until he encountered the non-criminal investigative exemption. In theory, the records should have stayed confidential.
The state Public Utility Commission decided to release the general nature of disputes to Muschick, anyway. Public interest triumphed over restricting access, the commission determined.
"They went beyond what they had to do," said Muschick, who believes the RTKL is working despite his vocal rebukes. "I just wish more government agencies would do that when situations allow it."
Roughly 5 to 10 percent of agencies continue to raise red flags surrounding transparency and accountability standards, said Byerly, the OOR deputy director. Nevertheless, he's optimistic about the law's future, about a government culture increasingly rooted in openness.
"Overall, the agencies have adapted to the law," Byerly said. "Most of them really do their best to give records when requested and really try to work with requesters."
Herr, a longtime advocate of Pileggi's more comprehensive adjustments to the RTKL, emphasized that local governments don't intend to hide information. But, when overly broad and sometimes repetitious requests inundate an office operating under a legally mandated time crunch, tensions can flare, Herr said.
"Be reasonable," Herr urged requesters. "When they go in, hopefully they understand their township and the size of their workforce."
To shorten the process, the Pennsylvania Department of Environmental Protection encourages requesters to visit regional offices for file reviews. In other instances, the 30-day extension makes it possible to track down documents — some still in paper or microfiche form — stored throughout the commonwealth, said Joe Cigan, a lawyer at DEP.
As of late November, DEP had received more than 800 Right-to-Know requests this year.
"The department's policy and goal is to provide access to information. There are opportunity costs associated with those activities," Cigan said. "We only have limited resources."
Staudenmaier can't quite shake off the sliver of paternalism, as he calls it, that threatens to stunt the law's development — subtly invoking the occasionally belligerent or intentionally destructive agencies.
Granted, records squabbles mainly derive from faulty legal interpretations, Staudenmaier said. An exemption, written too loosely, becomes an unwieldy obstacle. Or the definition of a record itself, the underpinning of the RTKL, is fraught with ambiguities.
The ensuing financial ramifications remain painfully clear. "If you have to go out and hire a lawyer, or hire me, you've got to pay for it," Staudenmaier said. "It's another sort of obstruction to access. The average Joe isn't going to have the wherewithal to get a lawyer — even the media sources now don't have the resources."
It's why media coalitions are on the rise.
PennLive, Philadelphia Media Network and other Pennsylvania-based publishers joined forces this year to obtain coroners' autopsy reports and toxicology reports. The requests were part of an effort to understand the extent of the opioid epidemic.
"In the last three years or so, we're seeing more and more [coalitions], and it's been very gratifying," Barron said. "It's more important than ever."
Barron has no guarantee she'll recoup thousands of dollars in legal fees, even if she were to win. Pennsylvania operates under a different open-records model than most states, where the losing agency fronts the bill.
"That's one of the changes we'd like to see," Melewsky said. "That would act as a deterrent to the agency, as well — you should only be taking the cases that you know you can prove."
To Stockton, it's all a gamble —and a judgment call — under this slowly crystallizing law. As far as Pittsburgh's Amazon bid is concerned, she considers it a matter of principle, too.
"We're not just trying to annoy people and be gnats." - PublicSource managing editor Halle Stockton
For 14 agonizing months, the proposal remained vaulted behind various layers of local and state government, in a troubling mystery to Pittsburgh citizens and open-records champions.
This same degree of opacity didn't plague all Amazon contenders, with several areas long ago revealing semblances of their offers.
Coinciding with Amazon's October 2017 deadline, Illinois and Chicago's $2 billion worth of incentives, not including $250 million extra for workforce training, became public knowledge. So did New Jersey's $7 billion in tax credits to secure Newark's footing in the Amazon race. Maryland's $6.5 billion incentive package, replete with credits and grants, was approved in early April for a Montgomery County site, burnishing $2 billion earlier allocated to regional improvements.
Mutchler, on behalf of PublicSource, is still negotiating with Gov. Wolf's office to confirm every Amazon-related document was released. If the two parties can't agree, Mutchler said she's prepared to seek "full enforcement" of the OOR's final determination, which had ordered public disclosure.
It's a legal precaution — and an emotional one.
In October, Stockton's faith in the RTKL deteriorated. She had a gnawing, though ultimately fruitless, suspicion: If Pittsburgh were to lose, there was still a chance the Steel City would keep quiet while prospecting to other major companies in need of a new home.
"We're not just trying to annoy people and be gnats," Stockton said. "We're trying to produce journalism that makes the city better. People look at what makes the city better in many different ways … but transparency is one of them."