The Holocaust, Genocide and Human Rights Education Initiative at Penn State enables K-12 educators to effectively teach difficult topics such as racism and trauma. The Initiative offers sustained and customized professional learning programs, online modules and instructional materials. Through a trauma-informed lens, the Initiative guides teachers in helping students develop insight into the human condition and life skills such as empathy, active listening, critical thinking, civic discourse and agency by applying inquiry approaches to the instruction of difficult topics. Over time, these methods become transformative, contributing to equitable education for all children.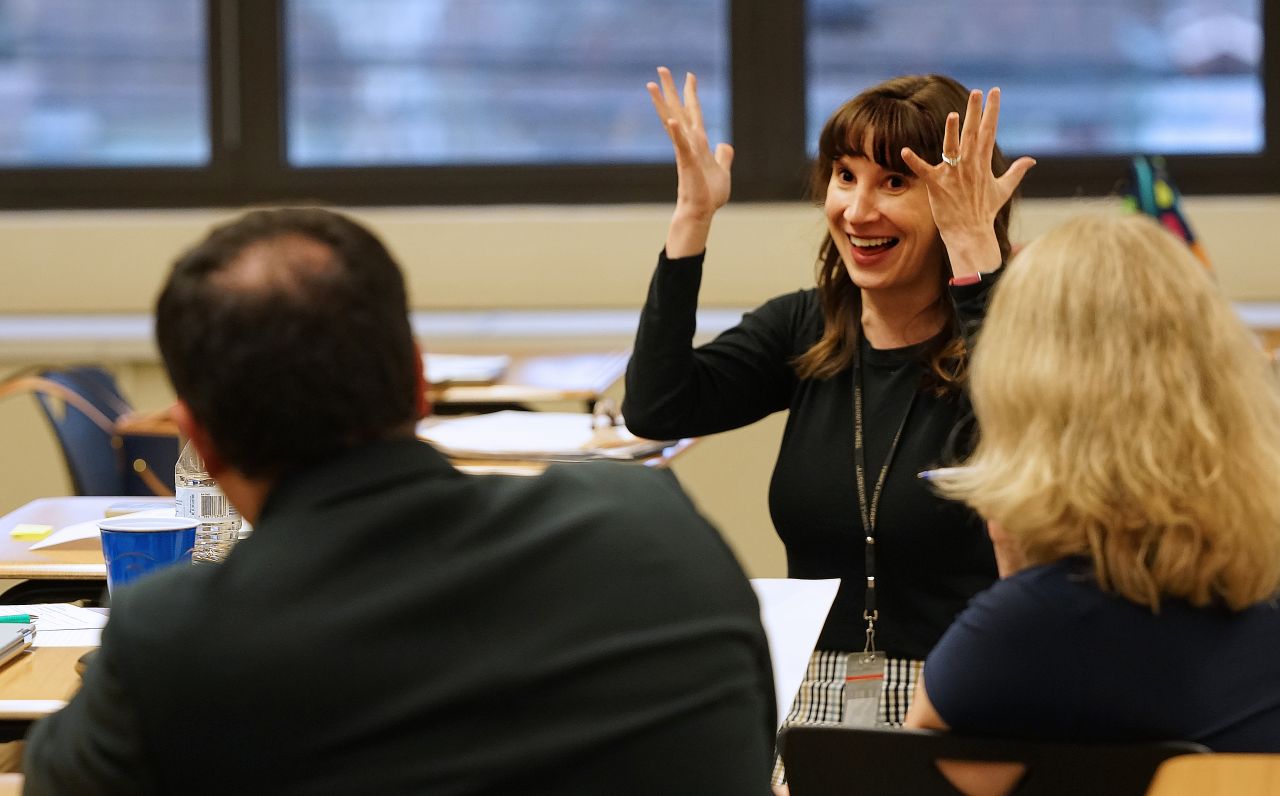 "I was talking with my first graders about the election, and they started expressing opposing views and having very explicit racial conversations at age six. I needed a way to unpack this difficult topic."

B.H., first grade teacher in the Red Lion Area School District (Red Lion, PA)
The Initiative breaks the mold of the one-shot professional learning workshop by creating inquiry communities. Traditional professional development often fails partly because it is disconnected from teachers' day-to-day work and rarely includes follow-up support. The Initiative's high-quality professional learning is intensive and extensive, improving educators' practice and their work with students. The Initiative's flagship programs engage teachers in a year of inquiry-based professional learning, informed by the latest research and scholarship.
The Initiative customizes professional learning to meet districts' and individual participants' needs, working closely with districts to tailor each program's topical focus, duration and structure. From the outset, Initiative personnel help participants identify their needs and goals. The Initiative helps participants save time with curated resources and one-on-one support to meet other professional requirements, such as preparing for teacher evaluations, designing lessons that address the content standards they already teach and completing continuing education.
"I wondered how I could address challenging topics with students who have trauma. By collecting data for my inquiry, I was finding out things that students were dealing with or thinking about at home, sometimes from students that I never would have guessed."

Towanda Lemon-McKie, sixth grade writing and science teacher in the Red Lion Area School District (Red Lion, PA)
The Initiative partners with entities such as the Pennsylvania Department of Education and school districts to help teachers and their students adopt an inquiry stance toward difficult topics and challenges that impact their lives and communities. Inquiry empowers K-12 students to own their learning. Through the guidance of participants in the Initiative's programs, students explore questions that matter to them, conduct primary and secondary research, and analyze data and information. Students develop, refine and justify their conclusions about the difficult topics they are investigating, choosing how to respond to their deepening insights. Through this process, students develop agency and take informed action to strengthen their schools and communities.
"It goes back to the power of intentional questioning. We're often afraid to ask hard questions, but our work with inquiry shows us how important it is."

Jamie Malloy, student support facilitator in the Red Lion Area School District (Red Lion, PA)
Participating educators enjoy 360-degree support from Penn State's unparalleled institutional resources and partners. The Initiative's affiliated faculty contribute expertise in teaching difficult social and historical topics, use of media in the classroom, trauma-informed pedagogy, equity and diversity, race and identity, the Holocaust, gender studies, human rights violations, international law, art education and more. Educators connect with experts from the College of Education, the College of the Liberal Arts, Penn State Law, the Donald P. Bellisario College of Communications, the Center for Science and the Schools, the Jewish Studies Program, and the Humanities Institute. The Initiative's external partners include the Pennsylvania Department of Education, the University of Southern California Shoah Foundation, the Anti-Defamation League, Echoes & Reflections, and the Holocaust Center of Pittsburgh.
Introduction & Overview Video of the Initiative
Latest News
The Initiative Bulletin
To subscribe to our quarterly Initiative Bulletin e-newsletter, please CLICK HERE. View our latest edition: Aug. 29, 2023
For more information about the Initiative and its programs as well as opportunities to get involved, email HolocaustEdInitiative@psu.edu
Follow Us on Social Media