Award for Excellence in Coverage of Youth Sports
In 2009, the John Curley Center for Sports Journalism created the Award for Excellence in Coverage of Youth Sports. Work nominated for the award displays creative, in-depth and innovative coverage of youth and high school sports—especially larger issues and trends related to those levels of athletic competition.
The award is intended to recognize work by daily and weekly newspapers, local and national television news broadcasts and national news organizations. Work by multimedia and online news outlets is eligible as well.
Competition for the 2022 award is underway.
Deadline Jan. 31, 2023.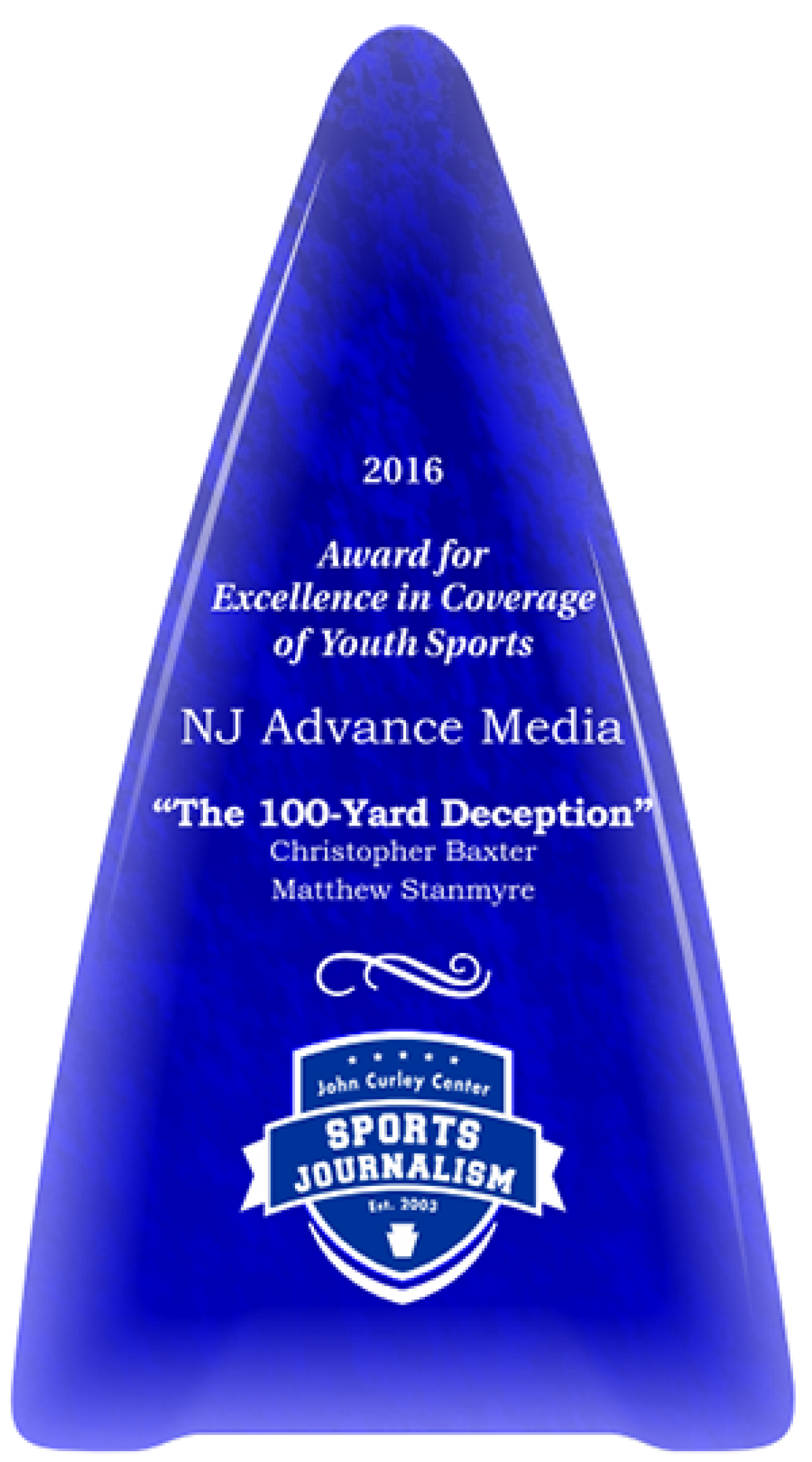 Nominations
Nominations should include work completed or continuing in the calendar year preceding the Jan. 31 deadline. Both individuals and media organizations are eligible for the award. Anyone may submit an entry on behalf of an individual or organization.
There are no application forms. Each entry must be accompanied by a letter describing the nature and result of the work and by the relevant aired or published material and/or other necessary documentation. To facilitate judging, please provide electronic copies of work or links to the work, with the cover letter contextualizing the entry.
The winner receives $1,000 and is expected to attend a ceremony on the University Park campus to discuss the award-winning work with Center for Sports Journalism students and faculty.
Entries Must be Submitted by Jan. 31, 2023
John Curley Center for Sports Journalism
Penn State
115 Carnegie Building
University Park, PA 16802
Winners
2021
An ESPN team led by Mark Fainaru-Wada and Mike Kessler was honored for an exhaustive investigation and series of stories about a track coach who molested dozens of boys and young men over a period of nearly 40 years, concluding when that man was arrested in 2021. [Story]

2020
Tim Bannon, Margaret Cahill and Amanda Parrish of the Milwaukee Journal Sentinel and O'Brien Fellowship at Marquette University were selected as recipients of the award for their series on how youth sports has navigated the pandemic. [Story]
(Other finalists: Kevin Armstrong, Sports Illustrated; Chris Harlan, Pittsburgh Tribune-Review)
2019
Roman Stubbs of The Washington Post, for a series of feature stories by Roman Stabout student-athletes in various sports who were overcoming unusual challenges presented by their surroundings. [Story]
2018
"Believed," Michigan Radio and "Banned Coaches Project," USA TODAY [Story]
(Honorable Mention: Joe Drape, The New York Times)
2017
"Paterson Eastside," Matthew Stanmyre/Steve Politi, NJ Advance Media [Story]
(Other finalists: "Scam Dunk," Luke Cyphers/Teri Thompson, Deadspin; "Not just an NFL problem," Michael Phillips, Richmond-Times Dispatch; and Features: Sports through the eyes of a handul of the country's young athletes, their coaches and parents, Jesse Dougherty, The Washington Post)
2016
"The 100-Yard Deception," Christopher Baxter/Matthew Stanmyre, NJ Advance Media [Story]
(Other finalists: "Lost in America," Luke Cyphers/Teri Thompson, Bleacher Report; "The Trusted Grown-Ups Who Steal Millions from Youth Sports," Bill Pennington, The New York Times; "A Stirring Victory for Texas High School. Then the Unthinkable," Jere Longman, The New York Times)
2015
"Hard Knocks," Newsday [Story]
(Other finalists: Carlo Kemp Series, Denver Post; "Hardwood Journey," The New York Times)
2014
TheFanVSN.com and editor Kyle Newman for its coverage of high school sports and related issues. [Story]
(Other finalists: Missy Isaacson, ESPNw; Travish Sawchik, Pittsburgh Tribune-Review)
2013
A series by the Tampa Bay Times, "Varsity Blues," addresses issues impacting high school sports. [Story] [SERIES]
2012
John Branch of The New York Times for his series "The Lady Jaguars" about the girls basketball team at a school for troubled teens in Tennessee. [Story]
2011
Rob Rossi of the Pittsburgh Tribune-Review for his series "Brain Waves," about concussions and high school athletes. [Story]
2010
George Dohrmann, author of "Play Their Hearts Out," a book about grassroots basketball. [Story]
2009
Bob Hohler of the Boston Globe for his series "Failing our Athletes," about the plight of athletic programs and student-athletes and Boston public schools. [Story]
Questions
Steve Sampsell
814-865-8801
steves@psu.edu