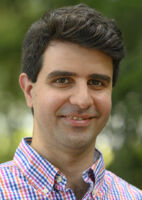 Details
Biography
Alrawi's research broadly focuses on media and telecommunications law and policy, privacy, surveillance and big data. Specifically, Alrawi's research focuses on the legal issues resulting from surveillance of individuals by government security agencies such as the National Security Agency (NSA) and the Federal Bureau of Investigation (FBI) using digital technologies.
For two years, Alrawi worked as a research and teaching assistant in the Donald P. Bellisario College of Communications. Alrawi also worked as a learning assistant at the Department of Astronomy and Astrophysics at Penn State.
He earned his bachelor's and master's degrees from the Bellisario College. He also earned a bachelor's degree from the College of Communications at Al Mansour University in Baghdad, Iraq, where he majored in telecommunications and communications engineering.
Outside of school, Alrawi enjoys traveling abroad and discovering different varieties of food, including the cuisines of Eastern Europe—the Czech Republic, Turkey, and Greece.
Contact