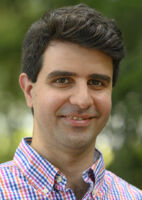 Expertise
Media/Communications Laws and Polices
Telecommunications Polices
Surveillance
Privacy
Broadband Policy & Deployment
Qualitative Research Methods
Quantitative Research Method
Law Research
Details
Biography
Ahmed Alrawi is a Ph.D. student at the Donald P. Bellisario College of Communications at Penn State. He earned a bachelor's degree from the College of Communications at Al-Mansour University in Baghdad, Iraq, where he majored in telecommunications engineering. Additionally, he earned another bachelor's degree in telecommunications before he achieved his master's degree in media studies — with both of those from Bellisario College.
Alrawi's research interests are twofold: (1) Surveillance, Privacy, & the Psychological Implications of ICTs and (2) Broadband Policy and Deployment. Alrawi's research offers theoretical contributions in terms of law, policy, and regulation concerning emerging technology and broadband policy and deployment that intersect with the psychological implication of ICTs in the fields of telecommunications and media industry, not only in the United States but also internationally, such as in the Middle East, China, and South Korea.
Alrawi's current research focuses on the following two areas: first, the legal and psychological implications resulting from the state surveillance processes using telecommunication and digital technology on individuals; second, broadband policy and deployment in the Middle East, specifically in the Arab Gulf countries, and in South Korea, China, and the United States.
Alrawi is fluent in Arabic, Turkish, and English and is conversant in French. He has won multiple awards, including, but not limited to, the Sidney and Helen Friedman Scholarship Endowed Award and the Graduate School Endowment Award.
In the News
Contact