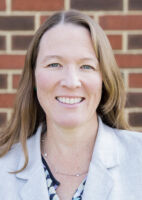 Journalism, Part-Time Faculty
Anne Danahy
Part-Time Faculty
Details
Biography
Anne Danahy is a reporter at WPSU. She was a reporter for nearly 12 years at the Centre Daily Times in State College, Pennsylvania, where she earned a number of awards for her coverage of issues including the impact of natural gas development on communities.
She earned a bachelor's degree in communications from Antioch College in Yellow Springs, Ohio, and a master's degree in media studies from Penn State.
Before joining WPSU, she worked as a writer and editor in the Office of Strategic Communications at Penn State and with the Earth and Environmental Systems Institute before that.
She hosts a Q&A program for Centre County's government and education access station and teaches a news writing and reporting class at Penn State.
Contact