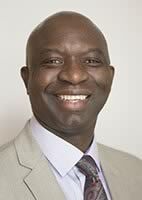 Media Studies
Anthony Olorunnisola
Professor, Associate Dean for Graduate Programs and Research
Expertise
International Communications
Political and Cross-Cultural Communications
Media Transformations
Education
Bachelor's (with honors): University of Ibadan, Nigeria
Master's: Univeristy of Ibadan, Nigeria
Ph.D.: Howard University
Details
Biography
Anthony Olorunnisola is a tenured professor and associate dean of graduate programs and research. He routinely teaches undergraduate and graduate courses that include COMM 100 Media & Society; COMM 419(+H) World Media Systems; COMM 502 Pedagogy in Communications; COMM 505 International Communication Problems; and COMM 510 Comparative Theories of Press Systems.
A William J. Fulbright alumnus, Dr. Olorunnisola is keenly interested in the nature, development [functional and/or dysfunctional], and transformation of social systems. He studies influences of nations' politics, economics, and cultures on media systems. This dimension of his work has produced several journal articles and four [4] book volumes about the co-transformation of political, economic and media systems - with focus on media in African transitional societies [e.g., post-apartheid, post-military, and post-democratic governance].
He has in progress solo and collaborative projects that are tracking African media contributions to 'turns in decolonization'. His aspiration in the latter instance is to showcase media practitioners' efforts to decolonize and/or demarginalize print and electronic media from global- and national margins.
Lately, Dr. Olorunnisola's focus has embraced studies of segments of societies' systems that lead democratized systems toward dysfunctionality. His ongoing work includes a developmental project in West Africa that seeks to reduce mass illiteracy and innumeracy among youth populations and impacts thereof on democratic citizenship.
Olorunnisola currently serves on the editorial boards of seven U.S. and Africa-based academic journals.
Websites
In the News
Publications
A.A. Olorunnisola, Jennifer Castoe & Giana Han (2021). Fighting for the Man in the Blue Overalls – Daily Sun as a Project in Demarginalization. African Journalism Studies, DOI: 10.1080/23743670.2021.1886963
Anthony A. Olorunnisola , Wunpini Fatimata Mohammed & Sarah Moore (2020): Community Radio in Contemporary South Africa – Deconstructing Complexities in Demarginalization, Journal of Radio & Audio Media, DOI: 10.1080/19376529.2020.1801688
Egbunike and A.A. Olorunnisola (2015). Social media and the #Occupy Nigeria Protests: Igniting or damping a Harmattan storm? Journal of African Media Studies, 7, 2: 141-164.
Olorunnisola, A.A. & Martin, B. (2013) Influences of media on social movements: Problematizing hyperbolic inferences about impacts. Telematics & Informatics, 30, 3: 275-288.
Contact
Anthony Olorunnisola
201D Carnegie Building
814-863-7997
axo8@psu.edu