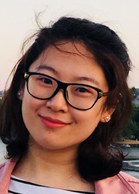 Education
Bachelor's: Renmin University, China (journalism and economics)
Master's: Chinese University, Hong Kong (global communication)
Details
Biography
Bingjie Liu is a fourth year Ph.D. student. Liu studies the role of communication technology in communication processes from a socio-psychological perspective. As technology allows human to take more actions (enhancing human agency) and also takes more actions itself (rising machine agency) during the course of communication, agency locus becomes a more prominent issue in communication.
Her work focuses on theorizing such agency negotiation processes and outcomes. Her research is mainly inspired by theoretical and empirical work on interactive technology (e.g., TIME, social presence), interpersonal and intergroup communication (e.g., social information processing theory, uncertainty reduction theory, anxiety/uncertainty management theory, etc.), social psychology (e.g., attribution, social cognition and emotion), and sociolinguistics.
With the theoretical focus on technology effects and agency negotiation, and a broad interest in communication behaviors in general, Bingjie has tested her hypotheses in various tech-related contexts such as human-technology (computer/robot/artificial intelligence) interaction, impression formation on social media, supportive communication, advertising, journalism, and mental health, employing methods including experiment, survey, content analysis, and discourse analysis. She has published her work in venues such as Computers in Human Behavior, ISPR Presence and Human-Computer Interaction International.
In her dissertation, she will test the effect of agency locus and transparency in human interaction with artificial intelligence.
Publications: https://scholar.google.com/citations?user=UAhifygAAAAJ&hl=en
In her spare time, she loves making Chinese hot pot for friends who are willing to wash the dishes, writing short fictions encoded based on her own experience that can be very easily deciphered, and reading books written by sarcastic and mean authors.
Contact