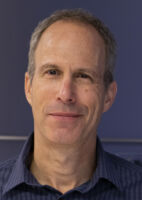 Journalism
Boaz Dvir
Associate Professor
Expertise
Documentary Filmmaking
Ethics in Filmmaking
New Media
Nonfiction Storytelling
Multimedia Reporting
Education
Bachelor's: University of Florida
Master's: UF Documentary Institute
MFA: University of Florida
Details
Biography
Assistant professor Boaz Dvir teaches writing and production in the Department of Journalism.

Award-winning filmmaker, Dvir tells the stories of ordinary people who, under extraordinary circumstances, transform into trailblazers who change the world around them. They include an average inner-city schoolteacher who emerges as a disruptive innovator and a national model (Discovering Gloria); a World War II flight engineer who transforms into the leader of a secret operation to prevent a second Holocaust (A Wing and a Prayer); an uneducated truck driver who becomes a highly effective child-protection activist (Jessie's Dad); and a French banker who sets out to kill former Nazi officer Klaus Barbie and ends up playing a pivotal role in history's most daring hostage-rescue operation (Cojot).
Dvir teamed up with Retro Report to produce a documentary short, "How Special Ops Became Central to the War On Terror," for The New York Times. His most recent release, the child-poverty short, "El País de la Eterna Primavera (Land of the Eternal Spring)," has started its festival run at International Film Festival Manhattan. His films have been distributed by PBS, Hulu, Netflix, Amazon and other outlets. Lifetime and Investigation Discovery have incorporated footage from his documentaries into their programs.
Dvir's documentaries have received coverage by such media as the Huffington Post, The Guardian, Haaretz, MSNBC, the New York Post, The Miami Herald, Stars and Stripes, the Los Angeles Jewish Journal, the Jewish Telegraphic Agency and Florida magazine. His films have won several prestigious awards. For instance, A Wing and a Prayer was named Best Documentary at the 2016 Fort Lauderdale International Film Festival.
Working with Pennsylvania's Department of Education, and organizations such as the U.S. Holocaust Memorial Museum and the University of Southern California Shoah Foundation, and his Penn State colleagues, Dvir is leading the creation of an innovative Penn State teacher-development initiative expected to revolutionize the instruction of difficult, vital subjects to children and adolescents.

Dvir wrote a syllabus on multimedia journalism ethics for Harvard University's Kennedy School. He has also taught journalism and documentary filmmaking at the University of Florida. He has written for many publications, including New York's Newsday, the Philadelphia Inquirer, the South Florida Sun-Sentinel, The Miami Herald, the Tampa Bay Times, the Las Vegas Sun, the Jerusalem Post, The Satirist, Scripps Howard's Treasure Coast Newspapers, the Times of Israel and Explore magazine.
Dvir served as editor of the Jacksonville Business Journal and managing editor of the South Florida Business Journal, which are part of the Newhouse-owned American City Business Journals. He appeared on "Week in Review" and wrote commentaries for WJCT, Jacksonville's NPR/PBS station.
Dvir created a documentary short about PALS, which helped the nonprofit that aids troubled teens receive an official nomination for a Nobel Peace Prize and raise hundreds of thousands of dollars in grants. Dvir received a Lilly Endowment grant from the Religion News Service to research spiritual aspects of the Holocaust.
Websites
In the News
Contact
Boaz Dvir
4A Willard Building (Bellisario Media Center)
814-863-0526
bcd14@psu.edu