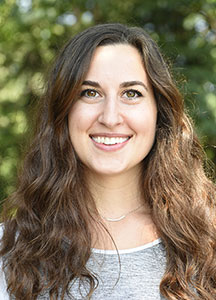 Student-PHD
Carlina DiRusso
Education
Master's: Cleveland State
Bachelor's: Ohio State
Details
Biography
Carlina DiRusso is a doctoral student in the Donald P. Bellisario College of Communications. An Ohio native, she earned her bachelor's degree in strategic communications from Ohio State University. After gaining professional experience in digital marketing and public relations in the music industry in Los Angeles, she earned a master's degree from Cleveland State University, where she honed her passions for research and teaching.

Carlina's research fuses health and science communication, information processing, and persuasion. She is particularly interested in experimental designs that examine message features and visuals on social media. She has more recently begun exploring consumer responses to organizational communication. Carlina is currently involved in projects investigating emotional responses to plastic pollution messages on social media, and the persuasive outcomes of self-compassion in sun safety messages.

Carlina's dissertation investigates the persuasive effects of framing novel chronic pain information. More specifically, she applies the heuristic-systematic model, attribution theory, and recent work on defensive reactions to determine how chronic pain patients respond to etiological framing of chronic pain.

In the summer of 2019, Carlina was awarded the Institute for Public Relations' Don Bartholomew Fellowship with Ketchum in New York City. She is currently completing a research project as part of that fellowship that examines message design strategies for corporate social advocacy campaigns.

In her free time, Carlina enjoys hiking, painting, and writing fiction. Through her research and beyond, Carlina hopes to share her passion for inspiring creativity and well-being with colleagues, students and communications practitioners.
Contact