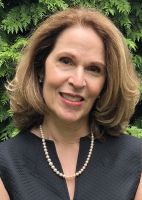 Part-Time Faculty
Carmina Perez
Details
Biography
Carmina Pérez, who splits her time between State College and New York City, serves as an adjunct instructor for the Bellisario College.
Born and raised in San Juan, Puerto Rico, she finished high school in Wellesley, Massachusetts, and later attended the University of Miami, where she majored in finance. That led to a 14-year career in sales and marketing on Wall Street. Her financial background later opened the doors to a position in TV, and she worked as an editorial producer for CNN Financial News for six years. After that, she became a web editor at AOL, where she caught the "internet bug" and has been working in digital marketing for 15-plus years.
In her last job, she worked as a senior specialist at an NYC-based non-governmental organization (NGO) similar to UNICEF, doing digital fundraising. Through the years she has worked in many different industries and has collaborated on a variety of marketing campaigns, from print and TV to web and digital.
Classes Teaching/Taught
COMM 230W Writing For Media
COMM 428A Principles of Strategic Communications
COMM 428C Strategic Communications in a Global Environment

Contact