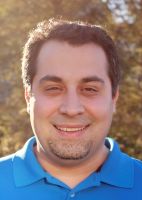 IT, Staff
Chris Stewart
Associate Systems Administrator
Details
Biography
Chris grew up in Queens, New York. An avid sports fan, he grew up rooting for the Mets and the Giants. In 2004, he attended Penn State at the Greater Allegheny campus, before moving to State College and attending at University Park until 2008. In 2017, he returned to Penn State, this time as a member of the central IT Service Desk staff where he served as a subject matter expert for Penn State's Learning Management System, Canvas. He continued his career with Penn State IT as a member of the Desktop and Endpoint Management Team, supporting users with a variety of technical needs on both Windows and Mac platforms.
Chris joins the Bellisario IT team as an Associate Systems Administrator.
He lives just outside of State College with his wife, Laura, his two children, Jack and Isla, along with whatever four-legged creatures his wife brings home.
Contact