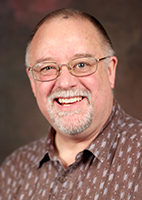 Journalism
Curt Chandler
Associate Teaching Professor
Expertise
Multimedia Storytelling
Journalism Entrepreneurship
Newsroom Management
Cross Platform Audience Engagement
Rural Health
Education
BSJ: Northwestern University
Details
Biography
Curt Chandler brings more than 25 years of newsroom experience to the classroom, where he teaches multimedia reporting. Before coming to Penn State, Chandler was the editor for online innovation and director of photography for the Pittsburgh Post-Gazette. He also taught photojournalism at Duquesne University from 1998 to 2005. His areas of expertise include multimedia reporting, journalism entrepreneurship, newsroom management and engaging news audiences across multiple platforms.
Chandler's professional background includes working as a photographer, writer and editor for the Cleveland Plain Dealer, the Ogden Standard-Examiner in Utah and the Pueblo Chieftain in Colorado. In January 2015 Chandler was a fellow at the Scripps Howard Journalism Entrepreneurship Institute at Arizona State University's Cronkite School of Journalism. He previously participated in the Poynter Institute Picture Editing and Newsroom Leadership workshop. He has helped organize seminars for the Online News Association, the National Press Photographers Association and the Vatican press corps. He has presented to the Society for News Design, the Inland Press Association, the American Press Institute, the Satellite News Network and many other media organizations.
Chandler is a founding faculty member of Penn State's Keystone Multimedia Workshop, the University of Kentucky's Picture Kentucky workshop and the Kent State Multimedia Workshop. He has been a coach for many years at the NPPA Multimedia Immersion workshop. Chandler has edited two books on photojournalism: "The Great Picture Hunt II" by David LaBelle (2006) and "Vision, Courage and Heart" by Bob Lynn (2013).
Websites
In the News
Contact
Curt Chandler
306 Willard Building (Bellisario Media Center)
University Park, PA 16802
814-865-2176
cwc11@psu.edu