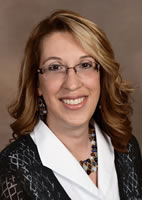 Advertising/Public Relations
Denise Bortree
Professor, Associate Dean for Academic Affairs
Expertise
Corporate Social Responsibility
Nonprofit Communication
Sustainability
Volunteerism
Education
Bachelor's: Geneva College
Master's: University of Florida
Ph.D.: University of Florida
Details
Biography
Denise Sevick Bortree is an associate professor in the department of advertising/public relations and the director of the Arthur W. Page Center. She brings more than 10 years of practical experience to her teaching, including positions as communication manager, public relations manager and marketing manager for a number of organizations.
Bortree researches and writes on nonprofit organizational communication and sustainability. She has co-edited two books, one titled Talking Green: Exploring Contemporary Issues in Environmental Communications that published in 2012 and the other titled Ethical Practice of Social Media in Public Relations that published in 2014. She has authored more than 30 peer-reviewed journal articles that have been published in journals such as Journalism and Mass Communication Quarterly, Journal of Public Relations Research, Nonprofit Management and Leadership, Public Relations Review, the International Journal of Nonprofit and Voluntary Sector Marketing and the International Journal of Volunteer Administration.
She was selected by the United Nations Volunteers to write a background paper titled "Volunteerism as a Force for Social Inclusion" for its 10-year report on volunteerism, The State of the World's Volunteerism.
In 2010 Bortree received the Deans' Excellence Award for Research and Creative Accomplishments from the Donald P. Bellisario College of Communications at Penn State, and in 2016 she received the Dean's Excellence Award for Integrated Scholarship. She was selected to participate in the Scripps Howard Leadership Academy in 2013.
She has guest edited three special issues of journals on topics including corporate social responsibility (Public Relations Journal), nonprofit public relations (Journal of Public Relations Research), and nonprofit organizations relationship building (PRism). She has presented more than 30 conference papers at national and international conferences where she has won numerous top paper awards.
Bortree sits on the editorial board of the Journal of Public Relations Research, and she has held leadership roles in the public relations division of the Association for Education in Journalism and Mass Communication (AEJMC) including her current role, head of the division. She is currently the incoming head of AEJMC's PF&R Committee. In addition, she is the past chair for the Association/Nonprofit Division of the Public Relations Society of America (PRSA).
Websites
In the News
RT
@ThePageCenter
: One of the most trusted medical leaders in the US, Dr. Fauci's record speaks for itself and we are honored to recognize…
RT
@rogerbolton
: I was wrong when I said the American response to the attack on our election would be seen by the world as evidence of the…
Contact
Denise Bortree
201F Carnegie Building
University Park, PA 16802
814-865-1274
dsb177@psu.edu