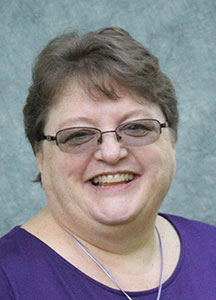 Finance Office, Staff
Elaine Files
Research Administrator
Education
Bachelor's: Penn State, English and Business
Details
Biography
Elaine has 18 years of experience in research administration includes working with a variety of sponsors: federal, state, industry, foundation and internal Penn State funding opportunities. Her previous positions included working in the central Sponsored Programs Office and as the negotiator and proposal specialist for Penn State Outreach.
She helps the faculty find funding and help to submit compliant, compelling proposals. She works to connect faculty to areas of collaboration within the University; helps with post-award issues and reporting; and serves as a liaison between the faculty/college and the numerous University offices' reporting requires. She works with endowed funds assigned to faculty and the Bellisario College's research centers to ensure spending goals, reporting and compliance. She writes, routes and manages grants given to other universities around the U.S. and beyond for the Page Center, which sponsors at least one external call for proposals each year.
She represents the Bellisario College on various University-wide committees. Her role also includes working with faculty on promotion, tenure and yearly reviews; helping to support our international scholars while in their home countries and adjusting to their new life at Penn State. Her role is connected to the Bellisario College finance office.
Contact
Elaine Files
College Heights School, #121
University Park, PA 16802
814-863-6307
efs2@psu.edu