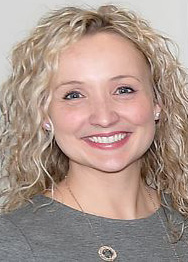 Staff
Emily Miller
Undergraduate Recruiter
Details
Biography
Emily Clevenger joined the Donald P. Bellisario College of Communications in August 2016 and serves as the manager of recruitment. Bringing with her recruitment experience from the University of Kentucky and Ohio State University, Clevenger focuses on undergraduate recruitment and retention efforts for the Bellisario College. Clevenger coordinates recruitment events, including open houses, Spend A Summer Day and summer camps and she is a resource to any student interested in learning more about the Bellisario College.
Clevenger believes that a high school student visiting campus for the first time should feel welcome and excited at the opportunities that await them at Penn State. She works to create a welcoming environment for all students visiting campus for the first time and helps them to feel at home.
Interacting with students and families one-on-one or as part of large events, Clevenger delivers a message about the big school resources and opportunities available to our students while maintaining the personalized support of a small school.
Contact
Emily Miller
111 Carnegie Building
University Park, PA 16802
814-867-2495
emiller@psu.edu