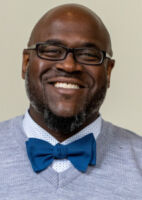 Diversity and Inclusion, Journalism
Gary Abdullah
Assistant Dean for Diversity and Inclusion
Education
Bachelor's: Penn State
Master's: Penn State
Details
Biography
Gary Abdullah has served as assistant dean for diversity and inclusion in the Donald P. Bellisario College of Communications since 2017. In that role, he strives to make the Bellisario College an inclusive and welcoming place for all students, staff and faculty. His responsibilities range from student recruitment and retention to staff development.
Before being selected as assistant dean, Abdullah was the multicultural coordinator for the College of Education at Penn State, an academic adviser in the Bellisario College, and an admissions officer for the University during a career that has been focused on higher education.
He earned two degrees from Penn State, a bachelor's in telecommunications and a master's in telecommunication studies.
In the News
Contact