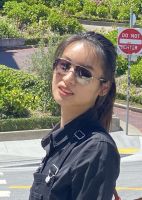 Student-MA
Gelan (Evelyn) Yin
Details
Biography
Gelan Yin recently graduated from Chinese University of Hong Kong with a bachelor's degree in journalism and communication. She gained hands-on news reporting and editing experience on campus and during an internship.
She is interested in studying feminism, queer politics, popular culture, and their interaction with digital media. The investigation in media and society leads to a reexamination of her personal experience, where she realizes she has been lucky enough to review and critique the power relations. Her passion is to care for the marginalized groups and views and make the world a place still worth fighting for.
Yin grew up in Shanghai and spent her childhood and adolescence there with her parents. My poodle Sherlock has been an important companion in the past few years. She started to practice piano when she was 4 years old and became proficient with it. She loves playing and listening to classical music to relax.
Contact