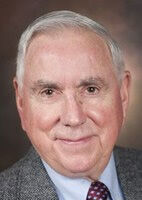 Emeritus
Gene Foreman
Visiting Professor
Education
Bachelor's: Arkansas State College
Details
Biography
Gene Foreman joined the Penn State faculty in 1998 after retiring from The Philadelphia Inquirer, where he managed newsroom operations for more than 25 years under various titles -- managing editor, executive editor and deputy editor. During his tenure The Inquirer won 18 Pulitzer Prizes.
At Penn State, he was the Larry and Ellen Foster Professor from 1999 until his retirement from full-time teaching in December 2006. He taught courses in news editing, news media ethics and newspaper management. In 2003, Foreman received two awards for excellence in teaching in the Donald P. Bellisario College of Communications -- the Deans' Award and the Alumni Society Award. In 2013, the Alumni Society gave him the first Douglas A. Anderson Contributor Award in recognition of his work on behalf of the Bellisario College.
As a visiting professor, he continues to direct a conference of distinguished writers, in which acclaimed journalists are brought to campus each year to discuss their experiences and techniques. The conference was originally the Foster Conference of Distinguished Writers but was renamed the Foster-Foreman Conference in 2011.
In the News
Contact