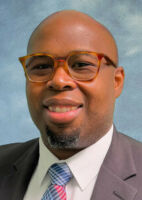 Staff
George Barron Jr.
Director of Development
Education
Bachelor's: California University of Pennsylvania
Details
Biography
George Barron Jr. joined the Bellisario College as its director of development on Jan. 3, 2022, after previously serving as director of campus development for Penn State Greater Allegheny.
During his tenure at Penn State Greater Allegheny, Barron partnered with academic leadership to secure the largest seven-figure gift to Penn State Greater Allegheny's portion of the "A Greater Penn State for 21st Century Excellence" campaign.
Before that, Barron served as director of development for Disability Rights Pennsylvania and as a major gifts officer for the Coalition for Christian Outreach in Pittsburgh. He also served as a corporate relations manager for the United Way of Allegheny County and started his career with the Boy Scouts of America, Greater Pittsburgh Council. His varied experience includes work with individual donors as well as with corporations and funding organizations.
In the News
Contact
George Barron Jr.
College Heights School, #126
814-865-3973
glb5160@psu.edu