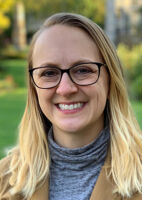 Media Studies
Jessica Myrick
Professor
Expertise
Quantitative Methods
Health Communication
Media Psychology
Emotions and Media
Social Media
Celebrities and Influencers
Education
Bachelor's: Indiana
Master's: Indiana
Ph.D.: North Carolina
Details
Biography
Jessica Gall Myrick joined the Donald P. Bellisario College of Communications in 2017 to bolster the growing Science Communication Program. She is also a co-funded faculty member in the Penn State Institutes of Energy and the Environment.
Her research examines the role of different emotions in shaping audience responses to health, science and environmental messages. She argues that mediated messages need to resonate emotionally with individuals in order to change attitudes and motivate behaviors related to those topics. Her work in this area has investigated how online health information seeking leads Internet users to experience multiple emotional states (e.g., anxiety, hope, and interest), which then predict different post-search behaviors. Other research has looked at the interplay of fear and hope, as well as compassion, in shaping responses to skin cancer prevention messages, for example.
A secondary research focus of hers is the role of popular culture media and media about celebrities in shaping our attitudes and behaviors related to health, science, and the environment. This line of work has led Myrick to investigate how viewing the popular "Shark Week" series impacts ocean conversation attitudes and behaviors as well as examining how different emotional responses to viewing media about celebrity illnesses shapes both individual and prosocial behaviors. As part of this stream of research pertaining to popular culture, she has also published research on why, and to what effect, people watch cat videos online.
In 2017, Myrick won the Lillian Lodge Kopenhaver Outstanding Junior Woman Scholar Award from the Commission on the Status of Women of the Association for Education in Journalism and Mass Communication (AEJMC). She had previously been named an Emerging Scholar by AEJMC in 2016.
Myrick's interdisciplinary work has been funded by the National Institute of Environmental Health Services and AEJMC. Her research has also been featured by media outlets across the globe. Myrick teaches courses related to media effects, research methods, mass communication and society, and health/science/environmental communication for the Bellisario College.
Websites
In the News
Contact