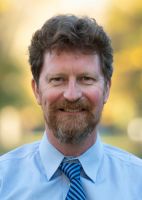 Journalism
John Affleck
Knight Chair in Sports Journalism and Society, Professor
Expertise
Sports Journalism
College Football
Journalism Ethics
Enterprise Journalism
Paralympics
Sports Business
Track and Field
Documentary
Education
Bachelor's: Notre Dame
Postgraduate Diploma: University of Dundee (Scotland)
Master's: Northwestern
Details
Biography
John Affleck, a reporter and editor for more than 30 years, is the department head for journalism in the Donald P. Bellisario College of Communications at Penn State, where he also serves as the Knight Chair in Sports Journalism and Society and director of the John Curley Center for Sports Journalism.
Affleck boasts a long record of professional success. He consistently guided reporters on work that won regional and national awards at The Associated Press, where he served a manager in U.S. news and sports during a 22-year career, while at Penn State, the journalism program earned the top prize for writing in the prestigious Hearst Journalism Awards in his first year leading the department.
As department chair at Penn State, Affleck is responsible for implementing the curriculum for about 400 journalism majors. His approach is to develop contemporary journalists by emphasizing critical thinking, ethical decision-making, and practical experience in multiple platforms. At the ground floor, this means mastering basic reporting and writing skills. At the top, it means creating content that media organizations want to use, thus bolstering students' professional credentials and helping the journalism industry at a time of stress.
Since 2013, Affleck has been director of the Curley Center, a popular program with more than 100 undergraduates earning an academic certificate at any given time. The center emphasizes not only traditional reporting skills and ethical practices, but also mastery of social media, reporting on off-the-field issues, in-depth enterprise and documentary-making. Affleck's goal is to develop students who think critically, communicate effectively and are prepared to take over as leaders in the world of sports media, whatever the platform.
Work toward that goal begins in the classroom, where Affleck focuses on providing students with an experience that will prepare them to step right into a newsroom and perform well. But he also pushes undergraduates with real-world projects that have an impact on professional journalism even as the students are earning their degrees.
Through special projects classes that Affleck developed, Curley Center students have covered major sporting events for professional publications both in the United States and abroad, producing content that captures both the events themselves and their cultural significance. Coverage examples include: Penn State football in Ireland in 2014 for the Pennsylvania NewsMedia Association (PNA); Penn State baseball in Cuba in 2015 for the PNA; the Rio Paralympics in 2016 for The Associated Press; the NFL in London in 2017 for the Miami Herald and Sports Business Journal; and, annually since 2017, the Little League World Series for the AP.
Affleck's students have traveled to Puerto Rico to examine the impact of sports on that island's recovery from a major hurricane, and to Scotland, where they produced both broadcast and print work focused on issues such as climate change, the business of sports and gender equity in sports through looks at the golf industry. Curley Center students, with faculty guidance, have also made two award-winning short documentaries, "Quiet Sundays," and "Running Home," with a third in production as of May 2023.
Students under Affleck's mentorship also have won multiple national and regional journalism honors, including the Jim Murray Memorial Foundation Scholarship for opinion writing; top five Hearst Journalism Awards Program finishes; and, top-five finishes in the Associated Press Sports Editors' competition for student journalists. Affleck himself won the Excellence in Teaching Award in 2015 from the college's Alumni Society Board, and was selected as a university-wide Teaching Fellow by the Penn State Alumni Association in 2019.
On campus, Affleck has served since 2014 as the faculty advisor to the Penn State chapter of the Association for Women in Sports Media, which was selected by the national group as its student chapter of the year for 2017-18 and 2019-20. He also served as the faculty partner to the Penn State track and field teams (both men's and women's) for seven years.
During his career at the AP, Affleck served as a reporter, editor and national manager, working regularly with all of the organization's major editorial departments. In his final role before joining the University faculty, he helped manage day-to-day operations for the roughly 70-member domestic sports team. He directed coverage of the Lance Armstrong saga, ran the Sport Department's enterprise work, and coordinated efforts with the news department as the Jerry Sandusky case unfolded.
Affleck also directed coverage of college football, including the last five Bowl Championship Series national title games. He also oversaw the wire service's 2013 Final Four coverage and was a key editor at the World Cup in South Africa, and at the Summer Olympics in Sydney and Athens.
On the news side, reporters and projects under Affleck's direct supervision earned awards from a wide array of groups, including the nation's education writers, religion reporters and the lesbian and gay journalists association. Work under his guidance captured the AP's top internal prizes for news enterprise, sports enterprise and sports features.
Affleck grew up in Syracuse, New York, and has been a competitive runner for most of his life, finishing in the Top 500 in his only appearance at the Boston Marathon and earning Master's All-American honors in the mile. He is married to Jessica Ancker, a professor and vice chair in the Department of Biomedical Informatics at Vanderbilt University.
Websites
In the News
Publications
Recent:
Why can't the NCAA get its act together? Fortune.com Oct. 31, 2017
College football solution: Add one round, cut one regular-season game. The Philadelphia Inquirer. Jan. 4, 2018.
Why winning the Super Bowl won't boost your city's economy. Fortune.com Jan. 26, 2017.
How the FBI's investigation could change college sports as we know them. Fortune.com March 8, 2018.
As states legalize sports betting, will sports media go all-in? The Conversation. June 26, 2018.
Contact
John Affleck
308 Willard Building (Bellisario Media Center)
814-865-0926
jra14@psu.edu