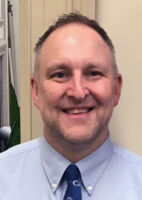 Journalism, Part-Time Faculty
John Delavan
Education
Master of Education in Higher Education, Penn State University, 2018
Master of Arts in Mass Communications, Penn State University, 1994
Bachelor of Arts in Communications and Journalism, Loyola University (New Orleans), 1991
Details
Biography
John Delavan is the communications strategy specialist for the Office of the President and the Office of the Executive Vice President and Provost. He supports several University administrators by developing and delivering a variety of communications to advance Penn State's strategic priorities.
Delavan earned a bachelor's degree in communications at Loyola University-New Orleans in 1991 and two master's degrees at Penn State: one in mass communications in 1994 and another in higher education in 2018.
Before returning to Penn State in 2015, Delavan lived and worked in Chicago, where he started his journalism career as a news writer, editor and designer for print newspapers and magazines. He later worked with several professional and trade associations, managing their print and digital publications and related marketing and communications initiatives.
Delavan teaches COMM 260W: News Writing and Reporting in the Donald P. Bellisario College of Communications.
Websites
Contact