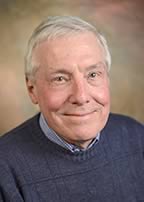 John Nichols
Professor Emeritus, Senior Fellow John Curley Center for Sports Journalism
Expertise
International communications
Cuba
NCAA
Higher Education and Athletics
Education
Ph.D.: University of Minnesota
Master's: University of Minnesota
Bachelor's: University of Minnesota
Details
Biography
John S. Nichols, a member of the Penn State faculty since 1977, is a professor of communications and a specialist in international communications, comparative media systems and telecommunications policy.
He is the co-author of "Clandestine Radio Broadcasting," selected as a Choice "Outstanding Academic Book," and a contributing author to 18 other books in the fields of international communications and foreign affairs, two of which also won Choice awards. Books to which he contributed include: "Telecommunications in Latin America" (Noam), "Nicaragua in Revolution" (Walker), "U.S.-Latin America Policymaking" (Dent), "International Communication" (Anokwa, Lin and Salwen) and "Communications in Latin America" (Cole). Nichols has conducted research on Cuban communications issues for nearly three decades and is the author of the monograph Cuban Mass Media and numerous other works on the subject.
In addition, he organized and led a U.S. congressional delegation to Cuba and was a consultant to ABC News on Cuban coverage. He also was a frequent witness before congressional committees and analyst on network television and radio, primarily on Cuban issues. His current research is on U.S.-Cuban telecommunications disputes, Television Marti (the U.S. government propaganda station directed at Cuba) and the right to international travel, including to embargoed countries like Cuba.
An advocate of interactive, problem-based learning methods, Nichols won Penn State's "Most Innovative Teacher" award in 1999. He also received the Deans' Excellence Award for Integrated Scholarship from the Donald P. Bellisario College of Communications in 2000. Nichols has held many leadership posts at the College and University levels, including his current role as associate dean for graduate studies and research. He previously was Chair of the University Faculty Senate and a member of the Faculty Advisory Committee to the President and numerous other University committees. A former newspaper reporter and U.S. Army information officer, Nichols received his Ph.D. from the University of Minnesota.
In the News
Contact
John Nichols
304 Willard Building
University Park, PA 16802
814-865-8313
jsn2@psu.edu