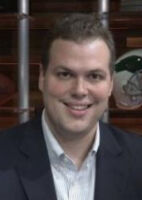 Journalism, Part-Time Faculty
Joseph Dolan
Part-Time Faculty
Details
Biography
Joseph Dolan is the managing editor of FantasyGuru.com and a radio host for SiriusXM.
As with most sports writers, Dolan opted for the pen over the pads when he realized he had zero outstanding athletic ability. A 2008 alumnus of Penn State, he ascended to sports editor of The Daily Collegian, Penn State's student-run independent publication. After graduating from Penn State, Dolan took a job producing content for PhiladelphiaEagles.com, where he covered the team extensively and served as an on-camera personality on "The Writers' Roundtable."
Starting in 2010, Dolan has been the co-host of the weekend edition of "SiriusXM Fantasy Football" and "SiriusXM Fantasy Football Gameday" on SiriusXM Fantasy Sports Radio. In 2011, he rejoined the Philadelphia Eagles as a weekly on-camera contributor and analyst on "Eagles Nightly." He's also been heard/seen on radio stations and television stations from Nashville, Tennessee, to Sacramento, California, contributing weekly spots on fantasy football and the NFL in general.
Contact