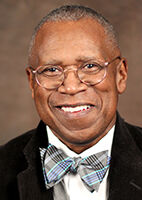 Emeritus
Joseph Selden
Assistant Dean Emeritus
Education
ABD: Penn State
Master's: Syracuse University
Bachelor's: Oklahoma State University
Details
Biography
During his tenure at Penn State, Selden, who retired in 2017, served as president of the Council of Multicultural Affairs Directors, was selected as a special committee member for the Vice Provost's Orientation Planning Committee and was appointed a board member of New York City's chapter of the National Association of Multi-Ethnicity in Communications. He received an outstanding rating for his diversity initiatives and accomplishments from the Accrediting Council on Education in Journalism and Mass Communications, and in 2012 was honored with the AEJMC's Robert P. Knight Award for outstanding recruiting of diversity students in journalism.
In 2010, the Penn State student chapter of the NAACP selected the Office of Multicultural Affairs as the recipient of the Image Award as the outstanding department on campus. In 2009, Selden was selected for the Senior Faculty Adviser Award by Alpha Kappa Alpha Sorority. He achieved ABD status with his doctoral degree through the College of Education at Penn State in 2005.
He was honored with the Barry Bingham Sr. Fellowship for 2001 by the National Conference of Editorial Writers and as a Distinguished Member of the National Society of Collegiate Scholars in 2000.
He worked as assistant director of student services/registrar at Cornell University from 1985 to 1994. After 28 years of service, he retired from the U.S. Air Force as Lieutenant Colonel in 2001. Selden routinely provides lectures in support of our College's Framework to Foster Diversity Plan in areas of multicultural cultural competency and leadership. He also provides academic advising, coordinates peer mentoring, oversees the academic intervention program, advises student clubs, organizes cultural heritage programs, and recruits undergraduate and graduate students of color.
In the News
Contact