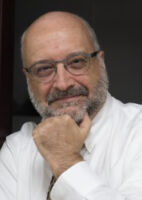 Media Studies
Kevin Hagopian
Teaching Professor
Expertise
Film History
Film Theory
African-American Film
Movie Industry
Education
Bachelor's: Illinois State University
Master's: University of Wisconsin
Ph.D.: University of Wisconsin
Details
Biography
Kevin Hagopian is a media studies generalist. His research interests are cultural history in/of the cinema, the historiography of the media, and communications and visual arts pedagogies. His critical work is framed in neo-formalist cinema studies and critical theories of race, post-coloniality and history.
He earned his Ph.D. in communication arts (cinema studies) from the University of Wisconsin in 2006. He has published on diverse topics, including parody and the cinema of Bond, postcoloniality and melodrama in the Mexican cinema, and narratives of whiteness in U.S. television history. His current research concentrates on corporate and institutional self-framing in visual narrative media, surveillance videography, and the influence of post-colonial cinema on the political philosophy of Barack Obama.
He is the co-editor of "From Entitlement to Engagement: Affirming Millennial Students' Egos in the Higher Education Classroom" (2013). He is completing a book manuscript on the history of corporate self-promotion in U.S. film history. Hagopian teaches introductory, intermediate and advanced courses in cinema studies, and the Donald P. Bellisario College of Communications' graduate seminar in pedagogy.
He has served on numerous Ph.D. and M.A. committees in the Bellisario College. He is the winner of the 2016 Bellisario College Alumni Society Board Excellence in Teaching Award. He has been interviewed on National Public Radio and quoted as an expert by media outlets such as USA Today, the Boston Globe, and the Chicago Tribune.
Before coming to Penn State, Hagopian taught African American studies at the University of Memphis, where he won the Thomas W. Briggs Foundation Award for Distinguished Teaching, the university's highest teaching honor. He has been editor of the Film & Television Literature Index at the State University of New York Research Foundation. He has also been a senior analyst at Kenny & Associates, a national consumer psychology consulting firm.
Websites
In the News
Contact