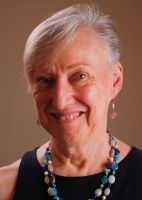 Telecommunications and Media Industries
Linda Feltman
Lecturer
Education
College of DuPage, Glen Ellyn, Illinois Associates Degree in Business Management 1972
Universite de Montreal, Montreal, P. Quebec. Study abroad 1973
Penn State, University Park, PA Bachelors Degree, Advertising 1976
Manchester University, Manchester, England. 1976 Study abroad
Details
Biography
Linda Feltman accepted a full time faculty position with the Donald P. Bellisario College of Communications in August 2018. Prior to becoming full time faculty, she worked with the Penn State Small Business Development Center (SBDC) as a business consultant for 19 years. The last two she worked exclusively with student entrepreneurs. Besides her Bellisario College teaching assignments, she is also the Faculty Director for the Entrepreneurship and Innovation minor (ENTI) Student Ambassador program and is the Faculty Advisor for Happy Valley Comm (HVC), the student run AD/PR firm.
Feltman's teaching load includes COMM 493 which is an entrepreneurship based class that focuses on what it might feel like to launch a business in real life, Comm 380 is a Telecommunications Management class and 384 is an asynchronous class that explores Professional Selling in a Business to Business platform. She also teaches in fall a 10-week First-Year Seminar that introduces students to Penn State's entrepreneurship culture while also covering all mandated FYS requirements.
From 2009 to 2018, Feltman coordinated Penn State's response to Global Entrepreneurship Week (GEW). GEW is an international entrepreneurship event that takes place every year during November and now focuses more on community entrepreneurship than student. Feltman continues to encourage her students to attend not only GEW but also the annual Penn State Startup Week held each spring that focuses on student entrepreneurship opportunities on all campuses. From 2019 to 2022 she was the pitch coach and coordinator for the Student Startup Showcase which took place during the Invent Penn State Venture and IP Conferences. Also during that time, she was one of the mentors and pitch coaches that worked with student teams involved with Happy Valley Launch Box. From 2018 to 2022 she was the Faculty Associate for the Lion Launch Pad Living Learning Option where students of all majors interested in entrepreneurship lived in a North Halls residence with their own set aside Maker Space. In 2022 she taught a one time class to 18 students from Saudi Arabia on the Entrepreneurship Mindset.
Prior to joining the SBDC staff in 1999, over the course of 20 years, Feltman was involved in several small business start-ups as a principal or owner. She has written a column for Pennsylvania Magazine since 1992, specializing in bed and breakfasts and profiles of interesting people and places, and is the author of several books related to same.
In 2005 she became an associate faculty member in the Bellisario College and continues to teach COMM 493 Entrepreneurship in the Information Age. Since 2009 she has been the Faculty Adviser for the Penn State student organization Happy Valley Comm, an award-winning student-run public relations firm that works with other student startups and local small businesses crafting their various social media platforms and publicity initiatives.
Feltman was the recipient of the 2008–09 Bellisario College Deans' Excellence Award for Outstanding Faculty Associate, the 2011 Outreach Vice President's Award for Engagement and was selected by Pennsylvania Business Central as one of the top 100 Business People in 2014 as well as a Woman Making a Difference in 2015. She and her colleague, Michael Ryan with whom she co-taught COMM 493 from January 2012 to May 2018, also received the Bellisario College Deans' Excellence Award for Outstanding Faculty Affiliate in April 2016. Also, Feltman was honored to be named as one of nine members of the 2016 Class of Distinguished Alumni of the College of DuPage, Glen Ellyn, Illinois.
Feltman is a 1976 graduate of Penn State, earning a bachelor's degree with a major in advertising. Prior to that, she attended the University of Montreal (Canada) in 1973 and prior to that earned an Associate's degree in business from the College of DuPage, in 1972. She studied abroad in 1976 attending the University of Manchester (England) through one of Penn State's first ever study abroad programs then sponsored by the School of Journalism. Although she enjoys living in her adopted state of Pennsylvania, she occasionally visits the Chicago suburb where she grew up to reconnect with family and friends. She is an avid reader, organic gardener and when time permits, attends Scottish Highland games and Celtic Festivals, especially if they are near Pittsburgh where her adult children reside.
Contact
Linda Feltman
224 Carnegie Building
814 865 3074
lcf8@psu.edu