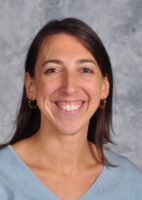 Staff
Lori McGarry
Education Program Specialist
Education
Bachelor's: University of Virginia
Master's: Duke University
Teaching Certificate: Penn State
Details
Biography
Lori McGarry is the education program specialist for the Holocaust, Genocide and Human Rights Education Initiative. Before joining the Donald P. Bellisario College of Communications in 2021, she worked for over 10 years as a classroom teacher in the State College Area School District.
She holds a bachelor's degree in anthropology from the University of Virginia, a master's degree in resource economics and policy from Duke University's Nicholas School of the Environment, and Pennsylvania teaching certificates in elementary education (K-6) and social studies (7-12).
Her prior work involved managing environmental, health and safety programs in manufacturing and corporate settings. She was named Pennsylvania History Teacher of the Year by the Gilder Lehrman Institute of American History (2013) and has been recognized as one of State College Magazine's Teachers of the Year (2020). Her areas of interests include equity-based trauma-informed pedagogy, deliberative practices, and interdisciplinary and community-based learning.
Contact
Lori McGarry
College Heights School, #114Q
814-863-6251
lxm937@psu.edu