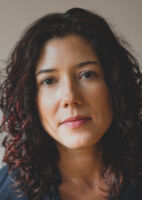 Journalism
Maggie Messitt
Norman Eberly Professor of Practice, Editorial Director of the Bellisario Media Center
Education
Bachelor's: Boston College (2001)
MFA: Goucher College (2007)
Ph.D.: Ohio University (2017)
Details
Biography
Maggie Messitt has worked as a social entrepreneur, journalist, and editor inside underserved communities in rural South Africa and the American Midwest for twenty years.
A dual-citizen, Messitt lived and worked in northeastern South Africa for nearly a decade. She was the editor/publisher of an award-winning community newspaper and the founding executive director of a nonprofit media organization focused on training women journalists in the former Apartheid-era homelands of Lebowa and Gazankulu. Messitt and her team also piloted a literary nonfiction magazine focused on Africa, including work by Chimamanda Ngozi Adichie, Zakes Mda, Mikhael Subotzky, Greg Marinovich, and others. The magazine was eventually exhibited at Colophon: an International Magazine Symposium in Luxembourg & the We Love Magazine Library in Japan. Her projects and programs were funded by the International Academy of Film and Television, the Lonely Planet Foundation, and the South African Media Development and Diversity Agency.
In the United States, Messitt spearheaded PBS Wisconsin's first digital engagement site & programming, work for which she was awarded a Knight Digital Media Fellowship at UC—Berkeley. She also worked closely with the Wisconsin Department of Corrections, University of Wisconsin, and the Writers in Prison Project to launch the state's first nonfiction workshops offered in minimum/medium security prisons. Throughout her career, Messitt has edited the work of writers ranging from students to Pulitzer and Orange Prize winners, and managed editorial projects for the BBC, POV Documentary Films, PBS-Wisconsin, the Wisconsin Historical Society, and others.
Messitt is the author of The Rainy Season, a work of immersion and narrative journalism, longlisted for the 2016 Alan Paton Award in South Africa. And, she has two forthcoming books — Newspaper, part of the Object Lessons series (published through a unique partnership between Bloomsbury and the Atlantic), and a deeply personal and journalistic investigation into a missing persons case.
Most recently, Messitt served as the founding national director of Report for America, a national service program that places talented emerging journalists in local newsrooms across the country to report on issue-based and geographic coverage gaps. During this time, she grew the program from 3 journalists in Appalachia to 60 journalists in newsrooms across the country and established the foundation for an expansion to 225 journalists in 2020. In a short time, the program garnered national attention for its efforts to address news deserts and coverage gaps across the country. For this work, Messitt was included on a list of "the biggest brains and bank accounts in the fight for local journalism," by Harvard University's NiemanLab (April 2018).
She is currently the Norman Eberly Professor of Practice in Journalism and the Editorial Director of the Bellisario Media Center. She is also affiliate faculty in the School of International Affairs.
Contact
Maggie Messitt
203 Willard Building (Bellisario Media Center)
mpm7177@psu.edu