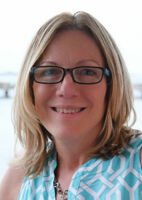 Emeritus
Maria Cabrera-Baukus
Senior Lecturer Emeritus
Education
Master's: University of Massachusetts
Bachelor's: University of Puerto Rico
Details
Biography
Longtime faculty member Maria Cabrera-Baukus retired in 2017. Since 1988, she had capably integrated her professional television experience as a key part of her teaching in the Donald P. Bellisario College of Communications. In her years at Penn State, Cabrera-Baukus established a strong interest in linking student projects to community organizations as a way of bringing "real world" experiences to the classroom.
She taught television production, production management and broadcast management. The productions by students in her upper-level courses aired locally on CNET. She also co-produced "Watch It!" a program that aired on WPSU-TV for Penn State Public Broadcasting.
Since 2003, she also involved her television production classes in the Library of Congress Veterans History Project. Her students conducted videotaped oral histories with veterans from World War II, the Korean War, the Vietnam War and the War in Iraq. Those interviews were then edited and archived at the Library of Congress, the Pennsylvania Military Museum and in Pattee Library's Special Collections on campus.
In addition, she coordinated, as part of a telecommunications/production class, student-led webcasts of the annual Homecoming parade and the Penn State Dance Marathon. Prior to teaching at Penn State, Cabrera-Baukus worked for several years at WGBH-TV in Boston, where she produced community affairs programming for local and national broadcast. Her television experience includes: production assistant, traffic manager, assistant director, director, associate producer and producer for numerous public television programs. In her last year at WGBH, she researched and produced a documentary film that won a New England Emmy Award.
In the News
Contact