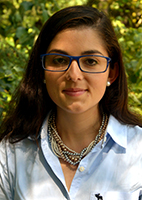 Student-PHD
Maria Molina Davila
Education
Master's: New Mexico State University
Bachelor's: West Texas A&M
Details
Biography
Maria D. Molina Davila is from Quito, Ecuador. She enjoys watching movies, working out and traveling. he graduated with a bachelor's degrees from West Texas A&M University, double majoring in mass communications and speech communication.
For her master's degree she attended New Mexico State University where she was awarded the Outstanding Graduate Student Award for the College of Arts and Sciences and was named an Honors Graduate Student. Before coming to Penn State, she worked at Universidad San Francisco de Quito as an online education content developer.
As a Ph.D. student, she researches motivational technology and how it can help meet people's goal, whether personal or professional. Her emphasis at the moment is on tracking technologies in the health context and the role of technological affordances in fake news consumption.
Contact